If you've got a tight budget, this guide to the best mirrorless camera under $500 will be your new best friend 🙂
There's a wide range of mirrorless cameras available here in 2023, and fortunately, some of them can be found for under 500 bucks.
While we recommend you consider one of the best mirrorless camera options costing over $500, we understand that not everyone can stretch their budget this far.
It's with this in mind that we created this guide – here are the best mirrorless camera bodies for under $500 of the year so far.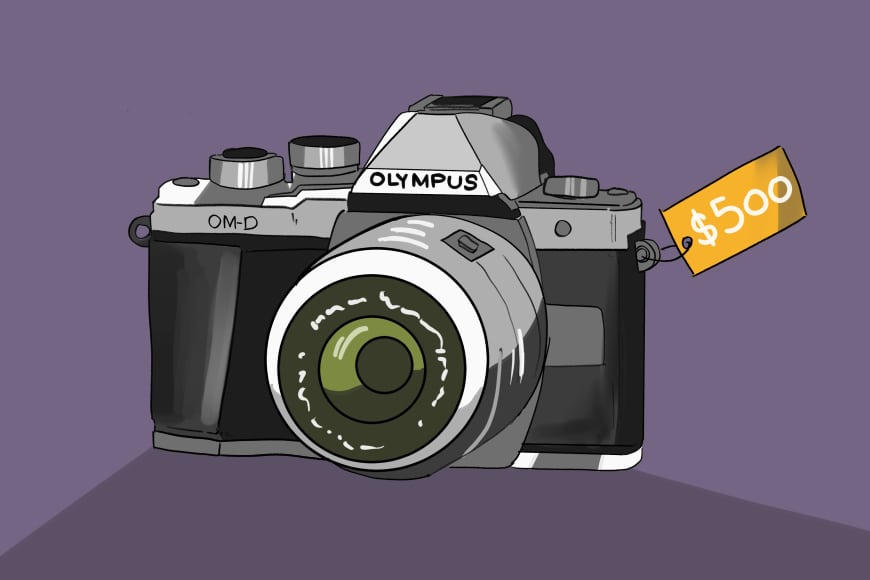 Our Top 3 Mirrorless Cameras under $500 in 2023
Best Mirrorless Camera under $500 in 2023
The Best Mirrorless Camera under $500
Size: 4.7″ x 1.8″ x 2.6″ (11.9 x 4.57 x 6.6 cm)
Weight: 0.72 lb / 326.9 grams
Sensor: APS-C sensor CMOS
Megapixels: 24.4 megapixels
It's very hard not to almost fall in love with the Sony Alpha a6000, and this camera also was one of the favorites in the post we wrote about The Best Mirrorless Cameras Under $1000. The same applies to most of Sony's Alpha series cameras, but the a6000 is one of their absolute best sellers and fully deserves the love it gets from fans.
With the Sony Alpha a6000 you get a highly compact, sturdy, semi-professional mirrorless camera with essentially the same photographic performance as Sony's much more expensive Alpha A7II. Literally, the differences between the two are nearly null on raw picture performance and the A7II mostly only offers a few extra peripheral features.
What's more, the Sony Alpha a6000 delivers one of the world's fastest autofocus speeds even now (despite being superseded by its own successors) and offers a continuous shooting rate at a very smooth 11fps that outdoes the majority of mirrorless camera models on sale for anywhere near its price (such as the mere 5fps of the Sony A7II). To top this off, it also offers a total of 25 contrast-detection points and a very robust 179 phase-detection focus points (nearly twice the number its predecessor or most cameras on this list deliver).
What we also love about the Sony Alpha a6000 is its low light shooting capacity. The camera doesn't come with in-body 5-axis image stabilization like some similarly priced editions but so long as you can keep the a6000 steady, its handling of dark streets and dark scenes is excellent due to an out-of-the-box ISO range of 100 to 25,600. There's also a built-in pop-up flash for trickier dark scenes.
The a6000 is still highly affordable if bought with a kit lens, and this lens performs perfectly well for serious shooting right out of the box. If you want more, like zoom range options for example, Sony's line of E-mount optics offers all sorts of options that include macro, wide angle and zoom lens editions.
The otherwise powerful Sony Alpha a6000 doesn't come with 4K ultra HD video recording capacity but it does output a respectable 1080p HD record at 60fps.
As for the EVF and LCD display of the Sony Alpha a6000, they're solid despite a couple of flaws, particularly for the LCD screen. We definitely like the electronic viewfinder. Its crisply bright and delivers strong contrast for better live image rendering. Its magnification factor also lets you clearly see what kind of composition you're putting together without straining your eyes. Sony gave the Alpha a6000 an SVGA EVF instead ot eh crisper XGA EVF but we think this is a fairly minor weakness.
What we also like is that any menu controls that you'd see and manipulate on the LCD display through the camera's scroll wheel and buttons also appear on the EVF screen, letting you change settings for a shot without taking your eye off the electronic viewfinder.
The tilting LCD display of the Sony Alpha a6000 is a bit more problematic though: It works well enough and the 3 inch screen offers good display resolution at 921,600 dots. However the screen's flexibility is very limited since it only tilts back and forwards at up to 90 degrees.
The Alpha a6000 has no touch controls of any kind (which really annoyed me ) and also has no LCD brightness control for reducing glare in bright conditions or sunny days. Thus, if you're using this digital camera on a sunny day, you'll find yourself mostly dependent on looking through its OLED electronic viewfinder to guide menu options and compose photos.
Moving back to the sensor of the Sony Alpha a6000, it's without a doubt this camera's single strongest feature. Sony gave the Alpha a6000 an EXMOR APS-C HD CMOS sensor with 92%-of-sensor phase detection AF tracking for single or continuous shooting. To top this off, the camera's image processing remains highly advanced with a Bionz X engine that's excellent for noise reduction and detail enhancement for the very robust 24 megapixel native resolution.
One thing I can say about this camera from extensive use is that it offers very good night and street shooting performance. The low light qualities of the Sony Alpha a6000 stem from its wide ISO range and more importantly, its great handling of high ISO range with low noise in shots that are taken with a bit of care. As for its street shooting, the compact body, firm design and solid hand-grip combine to make it a great device for low-key shots of the world doing its thing around you.
One thing we do have to note as a serious precaution is that the Sony Alpha a6000 doesn't come with any kind of weather sealing built into its construction. So, while I've used mine in rainy and snowy weather with a bit of care and frequent drying, it certainly can malfunction if you're not careful about keeping it reasonably dry.
On a final note, the Sony Alpha a6000 simply offers a ton of across-the-board quality for almost all common photography scenarios at a superbly low price. As a camera for low light, fast action and low-key street photography, it's one of the best mirrorless cameras available at its price, especially since it delivers nearly the same image quality as much more expensive cousins from both Sony and rival brands.
Best Canon Mirrorless Camera under $500
Size: 4.3 x 2.6 x 1.4″ / (10.8 x 6.71 x 3.51 cm)
Weight: 10.65 oz / 302 grams
Sensor: APS-C CMOS Sensor (1.6x Crop Factor)
Megapixels: 24.2 megapixels
One thing that's extremely likable about the Canon EOS M100 compact digital camera is that it's one extremely budget-friendly beginners device which doesn't pretend to be much more with its price or form factor. Despite this, the little camera manages to pack quite a few really strong semi-pro features and specs into its very small build.
Canon somewhat pushed the Canon EOS M100 as a compact camera for people who really want to quickly and easily share great photos to social media at a level of quality that goes beyond what's normally possible with a typical smartphone. And honestly, though we definitely know of some fantastic smartphone cameras with superb capabilities, the Canon EOS M100 largely delivers on its promise of highly affordable photo creation with bonuses like interchangeable lens capacity that smartphones lack.
For one thing, the Canon EOS M100 comes with a full-blown APS-C CMOS sensor that delivers a beautifully sharp 24.2 functional megapixels of photographic resolution. There are smartphones that can pull off the same resolution, but good luck finding one for anywhere near the cost of this camera, or with its additional features. These include an interchangeable lens capacity that gives any social media photography you do a squarely professional touch, and a low light capacity that's very respectable.
The Canon EOS M100 also offers up a decent continuous shooting rate of 6fps that's good enough for most street or nature photography and even works okay for shooting sports events. Other cool and very powerful features include the ability to handle all of its shooting controls through the LCD touchscreen menu and a very sharp LCD resolution of 1,040,000 dots that offers plenty of sharpness for composing your shots beautifully.
On a more negative side, there is no electronic viewfinder in the Canon EOS M100, but what we absolutely do love about the camera from a beginner point of view is that its physical controls are so minimalist and easy to get the hang of.
In terms of overall performance, the Canon EOS M100 doesn't disappoint on much. Its dual pixel AF offers really strong autofocus power for shooting on the fly and its maximum shutter speed of 1/4000 is decent enough in ideal lighting. And speaking of how well the Canon EOS M100 handles variable lighting, its ISO range of 100-25600 is perfectly solid for lots of different low light situations. Sony's Alpha a6000 series of cameras offer similar ISO and they're all strong low-light performers.
On the other hand, the EOS M100 only offers up 49 phase-detection points to its rather unique dual pixel AF. This is okay for light action photography and any kind of still-life shooting but it doesn't even come close to what rivals like the Sony Alpha A6000 or A5100 can deliver with their 179 phase-detection points.
What's also easy to love about the EOS M100 is its capacity not just for capturing photos as RAW files (again, good luck finding this in most smartphones and their cameras) but also for in-camera tweaking and editing of your RAW photo versions. This isn't even a typical feature in many entry-level mirrorless cameras. This little Canon camera also comes with some more or less decent image sharpening and noise reduction tools that, while not to everyone's taste at least let you edit a photo much better than a typical phone camera software package will allow and post it to social media in a hurry.
As for its movie-making chops. the Canon EOS M100 offers a fairly standard package of video recording specs. These consist of 29 minute shooting time in Full HD 1080p at 59.94p and 35 Mb/s, 1080p at 23.976p/29.97p and 24 Mb/s, and 720p HD shooting in similar ranges. So yeah, nothing fancy but also nothing shabby for a bit of quick video either. It would be nice if the EOS M100 offered a bit of 4K video functionality but maybe that's too much to ask for at this price.
If there's one particular thing that you might really dislike about the Canon EOS M100, then oddly enough it will probably be its entire system for charging connectivity. This little camera can't be charged via USB cable for some strange reason and this means hauling around an extra battery charge case if you want to take it with you on a trip.
The Canon EOS M100 is built with Canon's EF-M mount for lens editions and honestly, the selection of lenses could be better.
To sort of sum things up for the Canon EOS M100, it's a great device with lots of options for any beginner photographer who wants a strong splash of semi-pro technology right from day one. However if you're intent on more serious action photography, better photo composition via EVF and slightly better low light shooting performance, there are some better alternatives available right on this same list of mirrorless cameras under 500 dollars.
Best Compact Mirrorless Camera under $500
Size: 4.7″ x 3.6″ x 3.3″ (11.93 x 914 x 8.38 cm)
Weight: 1.1 lb / 498 grams
Sensor: Micro Four Thirds sensor
Megapixels: 16
The Olympus IM-DE-M10 Mark III mirrorless camera offers a ton inside a very compact, retro-looking package. This little guy's sensor may not be on the same level as those of many similarly priced rivals with APS-C sensor tech but it still delivers intense quality and plenty of resolution for sizeable blowups.
Other impressive features that the Olympus IM-DE-M10 Mark III delivers for its fairly small price include full 5-axis in-body image stabilization, 8.5 fps burst shooting, 121 autofocus points, a wickedly sharp 2.3 million dot EVF and -a personal favorite of mine because I do a lot of street photography- a silent mode that disables its shutter click sound. This last is great for when you want to take a wonderfully composed shot without startling away its perfect moment of life in motion.
The Olympus IM-DE-M10 Mark III is also delightfully compact with its tiny 1.1 lb (498 gram) weight and nicely proportioned body. This makes it easy to handle without too much drag even when the camera is being used at uncomfortable shooting angles. We also like the IM-DE-M10 Mark III's ergonomic body, which can be comfortably gripped without bulging out too much in the wrong places.
In terms of a change-over from its predecessor the Mark II, the Olympus IM-DE-M10 Mark III doesn't actually expand enormously on what the older camera offered. However, if you're a fan of 4K UHD video recording with your portable mirrorless camera, this is the first version in the lineup to offer this technology. It does so at a very respectable range of 30, 25 and 24fps depending on how you calibrate additional settings. For casual 4K documentary video, this is probably good enough for basic filmography.
While the Micro Four Thirds sensor of the Olympus IM-DE-M10 Mark III is comparable to that of many Panasonic Lumix cameras. At 16 megapixels, it offers a bit more than half the total resolution of what you'd get in a typical mid-range DSLR Canon EOS-type cameras or any APS-C type mirrorless alternative, Thus, it still packs a lot of sharpness into its image processing. This is helped out a lot by the Mark III camera's image processing engine and 5-axis image stabilization technology, which combine to keep images very sharp in most situations.
The Olympus IM-DE-M10 Mark III also gives good ISO, with decent low-light shooting capacity even if it doesn't quite match the capabilities of similarly priced Sony or Fujifilm mirrorless cameras with 24-26 MP APS-C sensors and higher ISO ratings, or some pricier Panasonic Lumix cameras with similar sensor sizes but better low light performance.
Another thing we love about the IM-DE-M10 Mark III compact camera is that its updated image processor gives a total of 121 autofocus points that are lightning fast, especially if you try working them with the camera's touch shutter feature on the rear tilting LCD screen (that obviously comes with general touch control functionality too.)
What's interesting here is that the Olympus IM-DE-M10 Mark III delivers incredibly fast autofocus despite not having the on-sensor phase-detection technology of most APS-C mirrorless cameras like the Sony a6000 and above. This model also delivers great battery life by mirrorless standards.
The electronic viewfinder on this digital camera model in particular offers wonderful 2.36 million dot resolution in an OLED display. This means bright, clear and sharply contrast visuals that don't lag at all with decent lighting as far as we could tell. The EVF can get a bit jittery if you're shooting in near dark but this is a minor problem unless you're tracking lots of movement.
The LCD tilting touchscreen display of the Olympus Mark III is also great with a sharp 1.04 million dot resolution and full touch functionality not just for photographic adjustments but also things like the shutter controls we mentioned above already.
On a final note, the Olympus IM-DE-M10 Mark III is just a great and feature-loaded compact and highly affordable mirrorless camera all around. Its 16 MP sensor may not offer the same resolution as an APS-C snesor but it does deliver plenty for under $500 and this little guy's continuous shooting, ISO quality, color delivery and autofocus are all well above average for this price. Remember also that this is an interchangeable lens camera.
The Olympus IM-DE-M10 Mark III also comes with a tough, slightly retro camera body that's loaded with external button controls, dual dials and picture adjustment options that are in immediate reach without digging into its display menu options. We really appreciate this for changing settings on the fly, in the field.
If we could call out some "major" negatives of the Olympus IM-DE-M10 Mark III they're that it doesn't offer more professional extras like higher sensor resolution, deeper low light quality and phase-detection in its autofocus. However, for its price, damn does this highly affordable model compensate for all of these things.
Size: 4.7″ x 3.26″ x 1.86″ (12.1 x 8.30 x 4.74 cm)
Weight: 0.98 lb / 448 grams
Sensor: APS C size CMOS sensor
Megapixels: 24.2 megapixels
The Fujifilm X-T100 has a ton to offer in a compact body that weighs no more than 0.98 lbs (448 grams). It comes with some specs issues but we can't deny the value per dollar spent on this little Fujifilm camera with interchangeable lens functionality.
For starters, unlike some low-priced mirrorless cameras, the Fujifilm X-T100 comes with a large 24.2 megapixel APS-C CMOS sensor with good ISO handling. Furthermore, this same sensor offers some excellent color reproduction technology that includes several advanced filter modes and even one "film simulation" setting for an instant retro look if that's what you want.
Another cool thing we very quickly noticed about the Fujifilm X-T100 is that its battery life is abnormally good by the standards of mirrorless cameras under 500 dollars: most mirrorless digital camera models struggle to handle 350 shots before dying. The Fujifilm X-T100 can deliver 430 at full resolution without a problem. This extra amount definitely helps out in the field.
Physically, the Fujifilm X-T100 comes built with a slightly retro design that we definitely like and its kit lens is great for starting off with some very versatile shooting right out of the box. You can also later add other optics like a zoom lens to its arsenal. In addition to this, controls along the camera's body are simple enough to learn in no time and their layout makes them easy to use in the field without too many finger fumbling.
Overall image quality in the Fujifilm X-T100 is superbly good and maybe one of the best mirrorless cameras in this ranking. Essentially, this is an economical camera with more than enough to justify its price.
The Fujifilm X-T100 is especially useful as a low-cost novice and enthusiast camera. This is the market we think it's specs most closely fit and in this category it's a great starting choice. To start with, in case you're not used to fully manual shooting, the Fujifilm X-T100 offers several awesome filter settings that come integrated as presets. These include PROVIA/Standard, Classic Chrome, ASTIA/Soft, VELVIA/Vivid, Pro Neg (Hi and Std) and a Monochrome setting with multiple 'filter' options. On the other hand, there's no black and white mode, which is a bit of a shame, so you'll have to change any photos over to that later on in Photoshop or Lightroom.
The Fujifilm X-T100 shoots both RAW and JPEG files and can even convert RAW images in-camera so you don't have to bother with the hassle in a computer later. There are some extended dynamic range modes included too for further time-saving in-camera picture enhancement. If you want to simplify your shooting even further, the X-T100 comes with auto-bracketing settings for film simulation, dynamic range, ISO, exposure and white balance.
If you're just keen on snapping some shots quickly and really don't want to mess around with almost any manual settings, there's even an Advanced SR AUTO mode that will automate pretty much all image analysis for the best focus and other camera settings. W e think this takes most of the fun out of serious photography but for casual shooting it's definitely useful as a starting point.
Something we really loved about the Fujifilm X-T100 is the camera's 91-point hybrid phase-and-contrast-detect autofocus system. This is one of this model's very serious features and offers the same performance that Fujifilm's more advanced X-Series mirrorless editions do. The camera also offers great shutter speed. In other words, no compromising for lower price on this at least.
A couple other great things we need to mention about the Fujifilm X-T100 are its electronic viewfinder and LCD screen. Both are well made for easy use. The EVF comes with a 2.36 million dot resolution and the LCD tilting touchscreen with 1.04 million dots on its 3 inch display. This tilting LCD only has two-way articulation however, which is pretty limited. With that said though, the X-T100's touch features for the LCD screen are definitely handy for easy, quick manipulation of menu options.
There are a few things we didn't like about the Fujifilm X-T100. They're especially worth noting because they do indeed affect shooting performance under more serious conditions and make this one camera that you might want to avoid if you're looking for certain professional features.
First of all, the Fujifilm X-T100 only comes with 200-12,800 ISO range. This is perfectly fine for most enthusiast photographers but if you want to do some heavy low-light and night shooting on the streets, we'd definitely recommend an alternative like Sony's a6000 or A7 alpha series digital camera models, or a Panasonic Lumix G7 edition (both the a6000 and G7 cost almost the same as the Fujifilm X-T100).
Secondly, this little mirrorless edition's continuous shooting rate is mediocre at best. The X-T100 can deliver only 6fps with a buffer capacity of no more than 25 JPEGS (not even that many RAW files) and it only manages to really shoot without pause for prolonged periods if you slow things all the way down to 3fps, which is hardly useful for fast-action sports or nature photography. Still, it's not bad among mirrorless cameras under 500 dollars.
On a final note, though it might not even matter much to photographers, the Fujifilm X-T100 does deliver 4K video recording, but it's barely usable with a maximum frame rate of just 15fps. This makes it hardly worth including. 1080P HD video is decent at 60, 50 and 24p though.
The bottom line for the Fujifilm X-T100 is that it's a strong, highly affordable shooter for getting started with high quality digital photography, but if you want something more professional for specialized uses, there are better options out there.
Size: 4.33″ x 1.42″ x 2.48″ (10.9 x 3.6 x 6.29 cm)
Weight: 0.62 lb / 283.9 grams
Sensor: APS C size CMOS sensor
Megapixels: 24.4 megapixels
The Sony Alpha A5100 may be getting a bit old now that it's been almost 6 years since its release date, but this extremely compact camera still has so much quality and high-performance specs to offer that it's difficult not to like it, especially with its very affordable price.
The Sony Alpha A5100 is in many ways similar to the Sony Alpha A6000 we just described above, but this little camera offers an even more compact form factor and a slightly lighter body. In many other ways, the two cameras are nearly identical: They come with the same 24.4 Megapixel APS-C CMOS sensor, the same BIONZ X processing engine, the same numbers of contrast-detection points (25) and phase-detection autofocus points (179) and similar pop-up flash additions. They also both offer the same general image quality with their sensors.
Where the Sony Alpha A5100 differs markedly on specs is in its maximum continuous shooting speed, which only reaches up to 5.9fps, vs. the 11fps of the Sony Alpha a6000. So if you want a great little Sony camera for sports and action shooting, the A6000 is the better option by far.
The Alpha A5100 also lacks the a6000's continuous autofocus for video recording and lacks the BSR sensor and built-in HDR of the a6000. Furthermore, the Sony Alpha A5100 doesn't offer quite the shooting life per batter charge that the Alpha a6000 can deliver.
The Sony Alpha A5100 looks extremely similar to the Alpha a6000 but key aspects of the two cameras are quite different. The Sony Alpha A5100's biggest defect and also its biggest difference from the Alpha a6000 is that it doesn't offer an electronic viewfinder. Instead, you're stuck with using this model's LCD screen, which obviously causes certain problems with shooting in bright light and for photo composition.
One great thing about the Sony Alpha A5100's LCD screen is its capacity for touch control. This is one of the most annoying absences in the Alpha a6000
Secondly, the Sony Alpha A5100 has no hot shoe for external attachments. This feature might not be a problem if you're fine with its built-in popup flash extension but at least with the a6000, you can change things up as needed, if needed. If however you would like to attach an external viewfinder to compensate for the Alpha A5100 model's lack of one, you're out of luck.
On a more final note, the Sony Alpha A5100 is generally superb for its price and so similar to its cousin the Alpha a6000 that you'll probably love it as a highly portable, highly effective shooter for low light and street photography. Its tiny size makes it a particularly exceptional street shooting device. However, the Sony Alpha A5100's autofocus and continuous continuous shooting rate are much weaker and we definitely recommend its A6000 cousin more for action photography.
The lack of an EVF in the Sony Alpha A5100 is also hard to tolerate and can really mess up smooth concentration when you're trying to compose a photo in a crowded or bright-lit situation.
Frequently Asked Questions
Which is the best mirrorless camera in these rankings?
This is a bit of a tricky question to answer because camera preference is somewhat personal when you're comparing across similarly priced models with similar sizes. However, if we had to choose just one that we think is the best rounded for everything, we'd go with Sony's Alpha A6000. It delivers the most professional specs of the bunch. These include best continuous shooting speed, best low light performance and excellent autofocus. Its number of focus points is also superb too. The Fujifilm X-T100 comes in a close second but it lacks the same ISO quality and continuous shooting speed.
Why Should I pick a $500 mirrorless model over a DLSR?
Mirrorless cameras almost consistently offer better sensor resolution and other specs at lower prices than most DSLR cameras. They're also wonderfully compact by default. In the range of $500 or lower prices, very few DSLR models will perform as well as most of the mirrorless editions we've just covered.
What are the most important specs to keep in mind?
When it comes to absolutely essential performance specs in any camera, things can vary a bit depending on what you want to do with your photographic work. Generally speaking though, you want your camera to have as large a sensor as possible for its price (APS-C at 24 megapixels in most of the above models is usually the best you'll get for $500 or less).
Additionally, the better its continuous shooting rate, the more capable your camera will be of capturing fast action sequences, which is always useful. Connected to shooting speed are also shutter speed (at least 1/4000) and the number of autofocus points your camera can handle across the sensor (100 ore more is always best). Both of these determine how well it captures and also freezes movement.
Finally, if you want to do any kind of low light shooting (and it's probably going to happen because low light and twilight often mean incredible compositions) we'd really recommend a good ISO range of at least 200 to 12000+ but ideally starting at 100 and going up to 20,000+. You won't use the higher ISO levels anyhow, but the bigger they're rated, the better your functional maximum ISO tends to be.
Final Words
Mirrorless cameras have become more affordable than ever before while also delivering better specs than ever before. We can't think of better devices for dipping your hands into professional photography on a budget. Sure, a good smartphone camera can do plenty but its physical limitations nearly guarantee that you'll have much more fun with any of the above camera models.