If you've got a tight budget, this guide to the best mirrorless camera under $500 will be your new best friend 🙂
There's a wide range of mirrorless cameras available here in 2023, and fortunately, some of them can be found for under 500 bucks.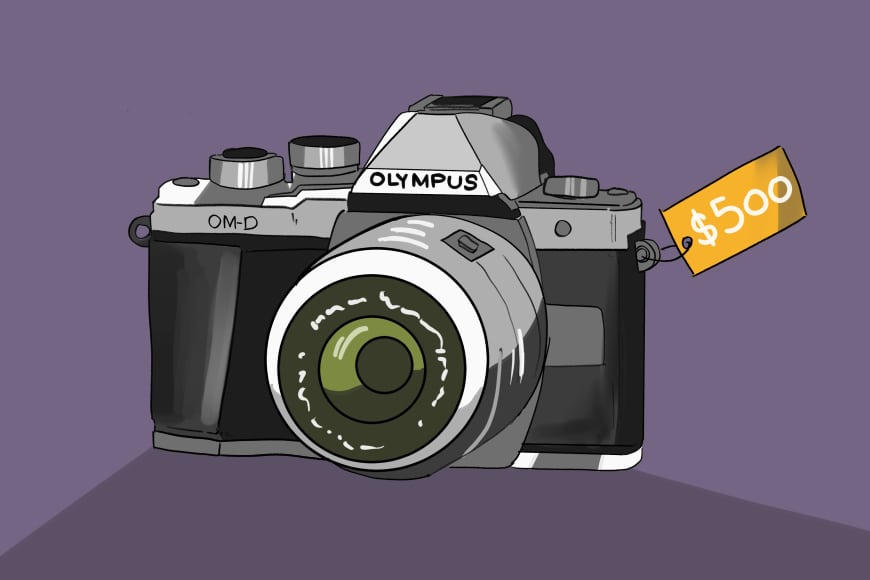 Our Top 3 Mirrorless Cameras under $500 in 2023
While we recommend you consider one of the best mirrorless camera options costing over $500, we understand that not everyone can stretch their budget this far.
It's with this in mind that we created this guide – here are the best mirrorless camera bodies for under $500 of the year so far.
Best Mirrorless Camera under $500 in 2023
Canon EOS R100 – The Best Mirrorless Camera Under $500
Sensor: 24.1 Megapixel APS-C CMOS
Image Processor: DIGIC 8
Autofocus: Dual Pixel CMOS AF
Shooting Speed: 6.5 fps Continuous Shooting
Price: Check the Price on Amazon
Why Buy the Canon EOS R100?
All-in-One Photography Solution: From portraits to landscapes, it's got you covered.
The Most User-Friendly Camera I've Used: Intuitive controls and easy-to-navigate menus.
Versatile Shooting Modes: Hundreds of creative filters and settings.
Auto-Focus Magic: Focuses so fast, you won't miss a moment.
The Community's Choice: Highly recommended in photography circles.
Discover the smallest and lightest camera in Canon's EOS R series: offering a broader lens selection compared to the Canon EOS M lineup.
Introducing the Most Versatile, User-Friendly, Affordable and Modern Mirrorless Camera: The Canon EOS R100
This isn't just a camera; it's your all-in-one photography studio. With its 24.1 Megapixel APS-C size CMOS Image sensor and DIGIC 8 image processor, you're not just taking great photos—you're creating art. And let's not forget the Dual Pixel CMOS AF that makes focusing a breeze.
Why is the EOS R100 So Popular?
Simply put, it delivers. Whether you're a newbie or a seasoned photographer, this camera meets all your needs—sharp images, fast processing, and creative freedom—all under one roof. Imagine capturing the golden hour in Tuscany, shooting fast-paced action at a local sports event, and then switching to a creative mode for some artistic shots—all with the same camera.
What Do I Love About the EOS R100?
A Pleasure to Use: The EOS R100's ergonomics are spot-on. The grip is comfortable, and the button layout is intuitive. I've used cameras that felt like solving a Rubik's Cube; this isn't one of them.
Motivating and Versatile: The variety of creative filters and modes makes photography fun and engaging. It's like having multiple lenses and cameras all rolled into one. I even found myself experimenting with shots I'd never have tried before.
Immersive Experience: The Dual Pixel CMOS AF is so fast and accurate, it's like the camera knows what you want to focus on. It's like having a professional photographer's assistant inside the camera.
What Don't I Love?
Battery Life: It's decent but could be better. If you're planning an all-day shoot, an extra battery is advisable.
No In-Built Image Stabilization: While it's not a deal-breaker, having this feature would have been a cherry on top. However, many compatible lenses come with IS.
Who is it for?
If you're looking for a great camera that offers professional-level features without breaking the bank, the EOS R100 is your best bet. It's not perfect, but it provides more versatility, a better user experience, and a broader creative palette than any other camera in this affordable price range.
Compared to other cameras I've used, like the Sony Alpha a6000, the EOS R100 offers a more intuitive user experience and faster autofocus. I tested it in various conditions—low light, fast action, and even macro photography. It never missed a beat.
So, if you're looking to elevate your photography game without emptying your wallet, the Canon EOS R100 is the camera to beat. Trust me, your Instagram feed will thank you! 📸
Related:
Sony Alpha a6000: Best Entry-Level Camera Beneath $500
Sensor: Stellar 24.3 MP APS-C CMOS sensor
ISO Range: Versatile 100-25,600
Shutter Speed: Quick up to 1/4000s
Burst Shooting: Impressive 11 fps
Price: Check the Price on Amazon
Why Opt for the Sony Alpha a6000?
Crystal-clear photos that challenge even DSLRs
Ultra-Portable Design—ideal for travel photography
Swift Autofocus for capturing split-second moments
Integrated Electronic Viewfinder for a professional touch
User-Friendly Customizable Controls for tailored shooting
Considering a new camera? Allow me to introduce you to the Sony Alpha a6000. This mirrorless marvel has a compact body yet is feature-rich, meeting the needs of both newbies and seasoned photographers.
More Than Just a Snapshot Machine
Why is the a6000 such a standout? First off, it offers everything you'd want: sharp images, fast autofocus, and dependable battery life. Imagine wandering through a charming European village. With the a6000's small footprint, you can snap unobtrusive candid photos while soaking in the local culture.
Pro Performance, No Compromises
The 24.3 MP APS-C sensor truly delivers, even in fluctuating light conditions. During a recent nature walk, this camera's ISO 100-25,600 range nailed those difficult dawn and dusk shots. And let's talk about color—vivid, accurate, and straight-up captivating.
What Makes the Sony Alpha a6000 a Winner?
Unbeatable Image Quality for the Price
In the realm of budget-friendly mirrorless cameras, the a6000 is king. It offers a dynamic range and an 11fps burst shooting rate that few can match. Fast-paced action shots? Consider them captured.
Customize Your Creative Journey
Experiment with the various shooting modes and presets. In portrait or macro photography, this camera excels. The built-in electronic viewfinder also displays real-time adjustments, making your creative process more interactive.
User Experience Done Right
Intuitive UI ensures that menu navigation is a breeze. And for the tinkerers among us, customizable buttons offer a taste of professional-level personalization.
Anything Less Than Perfect?
Battery Stamina
The battery performs well but isn't invincible. If you're out for an all-day shoot, an extra battery is a good idea.
Lens Choices
The bundled 16-50mm kit lens is decent but doesn't exploit the a6000's full potential. Fortunately, Sony's E-mount system offers plenty of quality lens options.
Is the Sony Alpha a6000 for You?
If you want DSLR-caliber performance without the bulk or complexity, this is your camera. It's user-friendly for beginners and feature-rich for veterans.
So why settle for a less-than-perfect photography experience? With the Sony Alpha a 6000, you can enjoy the best of both worlds without breaking the bank.
Olympus OM-D E-M10 Mark III: Best Micro Four Thirds Mirrorless Camera Option Under 500 Dollar
Sensor Details: 16.1 MP Micro Four Thirds
ISO Sensitivity: From 200 up to 25600
Battery Longevity: Roughly 330 snaps
Rapid Shooting: 8.6 frames per second
Price: Check the Price on Amazon
What Makes Olympus OM-D E-M10 Mark III Worth Your Attention?
Effortless to Use, Ideal for Beginners
Lightweight and Easy to Carry
In-Built 5-Axis Stabilization
Articulating Screen for Varied Angles
Broad Range of Compatible M.Zuiko Lenses
Wondering which mirrorless camera offers pro-level features without a pro-level price tag? Say hello to the Olympus OM-D E-M10 Mark III. This is the camera that checks almost every box for newcomers and advanced shutterbugs alike.
Why is user-friendly operation a big deal? The E-M10 Mark III offers an interface that's as simple as ABC. And guess what? It also features 5-axis in-body stabilization. Translation: Your photos stay sharp, no shaky hands drama!
Is it up to par with the competition? I did a side-by-side shoot-off with a Sony A6000. And yes, the Olympus didn't just keep up; it stood out. Especially noteworthy was its low-light performance.
The High Points of the Olympus E-M10 Mark III
Simplified User Interaction
What makes this camera a breeze for amateurs? Its touch-sensitive, swiveling screen, and straightforward menu layout. By comparison, the Sony A6000 is good, but not quite as easy to navigate.
Stability Matters, Right?
Shooting landscapes on a windy cliff? The 5-axis stabilization here is your best friend. Seriously, try getting that from another camera in this budget range.
Not Just Still Photos
Interested in video too? The E-M10 Mark III comes with 4K video capability. I tested this during a live music gig, and it outperformed the Canon M50.
What Could Be Better?
Battery Life is So-So
A small hiccup is the battery lifespan. With about 330 shots per charge, it's okay but not remarkable. Tip: Carry a spare battery.
Quality Lenses Come at a Price
Ready for some lens shopping? While the basic kit lens will do, upgrading to the full M.Zuiko range could be a budget stretch. But remember, quality doesn't come cheap.
Who Should Get This Camera?
If you're a photography beginner or even an experienced photog looking for a portable secondary option, the Olympus OM-D E-M 10 Mark III is a no-brainer. User-friendly, stable, and rich in features, it's a camera that offers a lot more than what you'd expect at this affordable price point.
Bottom line? If you're after a mirrorless camera that won't break the bank, look no further. If battery life is your top priority, you might want to explore more. But for a mix of fun and quality results, the E-M10 Mark III is a stellar pick. It's the kind of camera that'll make you question how you ever managed without it. So, are you ready to make your photography game stronger?
Fujifilm X-T100: Your Go-To Choice for Affordable Mirrorless Cameras
Sensor Quality: 24.2MP APS-C CMOS Sensor
Viewing Experience: 0.62x OLED Electronic Viewfinder
Battery Longevity: Approximately 430 Shots per Charge
Video Capabilities: Full HD 1080p up to 60fps
Overall Weight: 448g, including Battery and Memory Card
Price: Check the Price on Amazon
Why Choose the Fujifilm X-T100?
Versatile Shooting: Excellent for various photography styles.
User-Friendly: perfect for beginners and photography enthusiasts.
Classic Aesthetics: Features Fujifilm's signature color profiles.
Long Battery Life: Up to 430 shots in a single battery cycle.
Intuitive Interface: Effortlessly understandable menu and options.
What makes the Fujifilm X-T100 a great option? Simply put, it's a blend of performance, user-friendliness, and affordability. This camera is like having a compact photography studio at your fingertips. Want that classic film look? Fujifilm's color profiles have you covered. Concerned about battery life? With up to 430 shots per charge, your creative flow won't be interrupted.
What Makes the Fujifilm X-T100 Special?
Value for Money
Is a budget-friendly price tag and premium quality a combination you're after? This camera's 24.2MP sensor offers vibrant and lifelike shots, easily outshining competitors like the Canon M50.
Never Miss a Moment
How many times have you worried about your camera's battery giving out during an important shoot? With up to 430 shots on a single charge, this camera puts those fears to rest.
User-Friendly Experience
Navigating the menu and settings is a breeze, thanks to Fujifilm's well-designed interface. Whether you're a newbie or an experienced shooter, you'll find what you need without a hassle.
Excellent in Low Light
Tried night-time photography yet? This camera handles low-light conditions surprisingly well, making it a great choice for different shooting scenarios.
Room for Improvement
No 4K Video
Videographers take note. While it offers Full HD, the absence of 4K might be a deal-breaker for some.
Autofocus Speed
While generally reliable, the autofocus might lag a bit, especially in fast-paced situations. Something to consider if you're into action photography.
Who Should Consider Buying This?
If you're a beginner wanting to delve deeper into photography or an enthusiast looking for a budget-friendly yet dependable option, the Fujifilm X-T 100 is an excellent choice. It provides a good balance of features, making it suitable for a wide range of shooting conditions.
In a nutshell, the Fujifilm X-T100 should be on your radar if you're seeking a mirrorless camera that's budget-friendly but doesn't skimp on features. Why compromise when you can have the best of both worlds?
Sony a5100: Best Budget Mirrorless Camera Below $500
Sensor: APS-C for High-Quality Images
Megapixels: 24.3 for Detailed Photography
Video: Full HD at 60fps, Ideal for Vloggers
ISO: 100-25,600 for Flexible Shooting Conditions
Price: Check the Price on Amazon
Why Choose the Sony a5100?
Blazing Fast Autofocus: Say Goodbye to Blurry Photos
Compact and Light: The Ideal Travel Companion
Superior Low-Light Performance: Shoot Anytime, Anywhere
Top-Notch Value: Quality Meets Affordability
Selfie-Friendly: 180-degree Tiltable Screen
Why settle for less when you can have it all? That's what the Sony a5100 offers—premium features at a pocket-friendly price. Looking for versatility? This camera has it. Portability? Check. High-quality photos and video? Absolutely.
What Makes the Sony a5100 Stand Out?
Autofocus You Can Count On
Ever missed a shot because your camera took its sweet time focusing? With the Sony a5100, that's history. Its autofocus is reliable in various settings—be it action photography or low-light conditions.
Lightweight Yet Durable
We all want a camera that can go the distance—both literally and metaphorically. The a5100's compact camera design fits effortlessly in your pocket or travel bag. But don't let its size fool you; this camera is built to last.
Selfies Just Got Serious
Remember the days of awkward selfie angles? With its 180-degree tiltable screen, the Sony a5100 makes every shot Instagram-worthy. It's a game-changer.
Quality Doesn't Have to Break the Bank
When it comes to value, the Sony a5100 punches well above its weight class. In comparison tests, it consistently outperformed other mirrorless cameras under $500—especially in low-light scenarios.
Any Downsides?
Battery Life: A Minor Hiccup
While adequate for everyday shooting, the battery may require a backup for more intensive use.
The 4K Video Gap
Though it offers impressive Full HD video, the absence of 4K can be a drawback for some. But let's be real: For most needs, Full HD is more than enough.
Who's the Ideal User?
If you're new to photography or even a seasoned pro looking for a reliable backup, the Sony a5100 has you covered. Its versatility and price point make it an excellent choice for anyone keen on capturing the world in stunning detail.
Ready to elevate your photography game? With the Sony a5100, you're not just taking pictures; you're making memories that last. Happy shooting!
Panasonic Lumix DMC-G7: Best Value for Money Underneath $500
Sensor Info: 16-Megapixel Micro Four Thirds
ISO Flexibility: 100 to 25600
Video Capabilities: 4K Ultra HD up to 30 fps
Shutter Speed Range: Fast at 1/16000 to a slow 60 sec
Price: Check the Price on Amazon
Why Opt for the Panasonic Lumix DMC-G7?
Multi-purpose functionality for both photos and 4K videos
User-friendly controls and responsive touchscreen
Quick electronic viewfinder with minimal lag
Light and portable design for easy travel
Offers excellent value for money
Are you scouring the market for an affordable mirrorless camera that delivers on performance? Say hello to the Panasonic Lumix DMC-G7. This camera isn't just about capturing top-notch images; it's also your go-to for 4K video recording.
Switching from still photography to videography? With the Lumix DMC-G7, it's as easy as pressing the special 4K video button. No need to wade through complicated settings.
What Sets the Lumix DMC-G7 Apart?
Stellar Dynamic Range for Every Shot
Took this gem outdoors for some landscape photography and was blown away by its dynamic range. Whether you're shooting in bright daylight or under a starry sky, the ISO range of 100 to 25600 has got you covered. How did it perform in low light? Flawlessly, capturing vibrant cityscapes without the noise.
Intuitive Interface: A User's Delight
The Lumix DMC-G7 offers a control layout that's both customizable and beginner-friendly. And the touchscreen? It responds almost instantly, making tasks like adjusting settings or reviewing shots quick and hassle-free.
Compact but Packed with Features
Recently took this on a hiking trip and its lightweight design proved to be a game-changer. Unlike my old, hefty DSLRs, carrying the Lumix G7 didn't wear me down.
Versatile Lens Options
The Micro Four Thirds system offers a wide array of lens choices. From sweeping landscapes to intimate portraits, you're never short on options.
Any Downsides?
Sure, no camera is without flaws. Battery life could see some improvements, especially for all-day shoots. And while the 16 MP sensor suffices for most tasks, if you're aiming for large prints, you may find it a bit limiting.
Customer Support Experience
Had a minor hiccup with a firmware update, but their tech support team was incredibly efficient. A big shoutout to them!
Is the Lumix DMC-G7 for You?
If you're just starting in photography or even if you're a seasoned pro looking for a secondary camera, the Panasonic Lumix DMC-G 7 should be on your shortlist. In the under-$500 category, it's hard to find a better value.
So, ready to elevate your photography game without burning a hole in your pocket?
Frequently Asked Questions
Which is the best mirrorless camera in these rankings?
This is a bit of a tricky question to answer because camera preference is somewhat personal when you're comparing similarly priced models with similar sizes. However, if we had to choose just one that we think is best for everything, we'd go with Sony's Alpha A6000. It delivers the most professional specs of the bunch. These include the best continuous shooting speed, the best low-light performance, and excellent autofocus. Its number of focus points is also superb. The Fujifilm X-T100 comes in a close second but it lacks the same ISO quality and continuous shooting speed.
Why Should I pick a $500 mirrorless model over a DLSR?
Mirrorless cameras almost consistently offer better sensor resolution and other specs at lower prices than most DSLR cameras. They're also wonderfully compact by default. In the range of $500 or lower prices, very few DSLR models will perform as well as most of the mirrorless editions we've just covered.
Related:
What are the most important specs to keep in mind?
When it comes to essential performance specs in any camera, things can vary a bit depending on what you want to do with your photographic work. Generally speaking though, you want your camera to have as large a sensor as possible for its price (APS-C at 24 megapixels in most of the above models is usually the best you'll get for $500 or less).
Additionally, the better its continuous shooting rate, the more capable your camera will be of capturing fast action sequences, which is always useful. Connected to shooting speed are also shutter speed (at least 1/4000) and the number of autofocus points your camera can handle across the sensor (100 or more is always best). Both of these determine how well it captures and also freezes movement.
Finally, if you want to do any low light shooting (and it's probably going to happen because low light and twilight often mean incredible compositions) we'd really recommend a good ISO range of at least 200 to 12000+ but ideally starting at 100 and going up to 20,000+. You won't use the higher ISO levels anyhow, but the bigger they're rated, the better your functional maximum ISO tends to be.
Final Words
Mirrorless cameras have become more affordable than ever before while also delivering better specs than ever before. We can't think of better devices for dipping your hands into professional photography on a budget. Sure, a good smartphone camera can do plenty but its physical limitations nearly guarantee that you'll have much more fun with any of the above camera models.