Concerts, flashing lights, explosions, dimly lit backup musicians, glaring strobe lights, and pyrotechnics that can turn the blackest night into the brilliance of the noonday sun in the blink of an eye. It's awesome when you're in the audience, enjoying the performance, it's not so awesome when you've been hired to create images of the show with your Nikon camera.
Finding the best Nikon lenses for concert photography is one of the more challenging aspects of creating high-quality, creative images.
There is a best Nikon lens for concert photography, specifically the type of concert you'll be attending, but one lens will never fit all venues.
Here Are the Top 6 Best Nikon Lenses for Concert Photography!
Best Nikon Lenses for Concert Photography Rationale
The first step in determining which lens or lenses will work for you is to understand what type of concert photography you're going to encounter.
A huge concert in New York City's Central Park is a very different challenge than a local performance at a dinner theatre a few blocks from your home. They both deserve a professional touch when it comes to imaging, but you're not going to use the same lens for an outdoor concert with the stage a hundred yards from you as you would looking up at the stage from the first row at a local performance.
In a concert lens, you'll require a long, clear zoom for distance work at outdoor concerts. A lens that can handle filters is a plus as well. Shooting against the setting sun at Red Rocks Amphitheatre west of Denver can produce spectacular images, but you'll require a lens that can handle the harsh contrast of long, natural light. It takes more than just a long telephoto to get that imagery.
Indoors, the contrast between light and dark is paramount in concert photography.
You'll find yourself shooting from darkness toward a brilliantly lit stage, with extreme shadows covering much of the background detail. You'll need a lens that can compensate for these conditions, and the ability to manually adjust ISO, f-stop, light balance, and shutter speed.
In a concert lens, you need to master manual settings, and your lens has to have those settings available.
Autofocus is great, but automatic settings on your camera with every lens we'll review won't get the job done.
In the modern era, fixed images remain a necessity, but finding the best lens for concert videography is an issue as well.
Things to consider in a concert lens:
Long focal length
Low F-stop
Wide angle options
Manual setting options
Know your venue
One lens will not do every job
Nikon AF-S FX NIKKOR 300mm f/4E PF ED Vibration Reduction Lens with Auto Focus
Best Telephoto Lens for Concert Photography
Bottom Line:
This lens is a beast. Tipping the scales at just over one-and-a-half pounds, it can be handheld but works better at distances with its fixed 300mm length. The f-stop of 4.0 gathers light at a level higher than competitors, but it comes at a price.
This is an expensive lens. Made of high-quality plastic to reduce weight, and with nine elements that work to gather light effectively this is a lens that will bring distant images into clear focus in less-than-ideal light conditions.
PROS
300mm focal length
Lightweight
High-speed autofocus
F/4.0
9 elements
CONS
Hard to control without a tripod/monopod
Expensive
Why We Picked It
This lens was chosen as the best telephoto for its combination of great focal length, and fast F-stop in an all-in-one package. It is a challenge for some photographers with its fixed focal length, but if you know your venue, and get positioned at a distance to use the 300mm length, you won't be sorry. This lens is fast, focuses fast, and has the manual options you'll need to work with your Nikon camera body.
Who It's For
This lens is for the professional or seasoned amateur. It's also an excellent choice for a photographer looking to step up their game. The light-gathering ability makes a great choice for night concerts in large stadium settings where bringing the action up close, and clear is the difference between a job well done, and blurry, grainy images.
If you're on a limited budget, you may not want a lens with a fixed focal length like this one. A variable zoom, even with lower light-gathering ability might be more within your budget, but the quality you'll get with this lens is worth the price for the enterprising professional.
For distance work, this lens offers the best focal length for concert photography.
Nikon AF-S NIKKOR 70-200mm f/2.8E FL ED VR Lens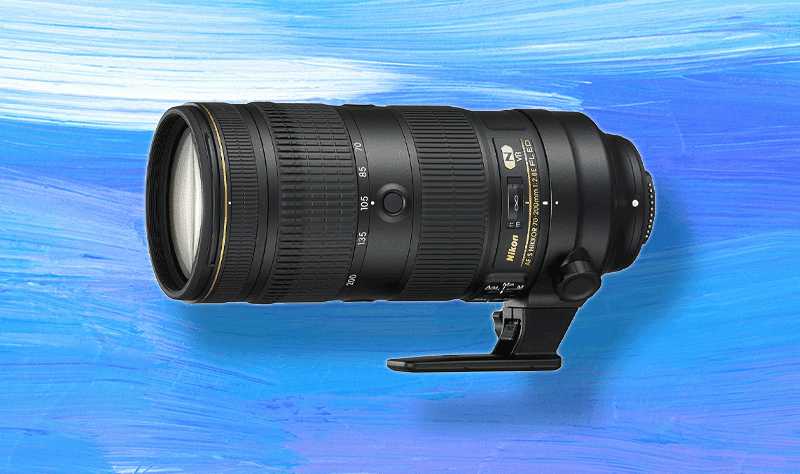 Best Zoom Lens for Concert Photography
Bottom Line:
A 2.8 F-stop in a variable zoom with a focal length from 70 to 200mm, solves a lot of photographic issues, but this lens comes at an impressive price as well.
At 3.5 pounds, it is heavy enough to require at least a monopod when used in low-light settings. Without it, you'll have blurry images despite the high-end vibration-resistant features integrated into the lens.
If you're on the move at a concert, working the edges, the front, and possibly even behind the scenes backstage, you'll need a zoom lens to enable you to capture all those images at varying distances, this is the one that will meet those challenges.
PROS
70-200 variable length
High-speed autofocus
F/2.8
9 elements
Full frame
F-mount
CONS
Hard to control without a tripod/monopod
Expensive
Heavy 3.1-pound weight
Why We Picked It
We picked this lens for its excellent imagery in a variety of settings. There is no one lens for all concert photography venues, but this one comes close. It doesn't have wide angle features, but at 70mm, it's close to the "Nifty 50" setting of what you see is what you get. When extended to 200mm it can produce closeups in interior settings, or reach out and bring in distant images at an outdoor event.
With an ultrafast 2.8 f-stop, it can gather light as well as a standard fixed 35 or 50mm lens but has the extra ability to extend well beyond distances of several dozen yards while still producing clear, crisp images. The 2.8 setting makes this one of the best Nikon lenses for night photography.
Who It's For
This is a professional-level lens, but an experienced amateur can produce incredible images in both indoor, and artificial light, and in the natural light of an early evening or nighttime concert.
The zoom feature with the fast 2.8 f-stop makes this as virtual a single lens as you're likely to find on the market.
The price will be prohibitive for many photographers, but if you have gigs that pay well, this is a lens you can carry with you without having to take a bag full of other lenses. As a single-use lens, this is the best choice we've found.
Nikon NIKKOR Z 50mm f/1.2 S Standard Ultra Fast Prime Lens for Nikon Z Mirrorless Cameras
Best Nikon Z Lens for Concerts
Bottom Line:
You don't have to guess the distance, close-ups, distance shots, or wide-angle options with this lens. This is the "Nifty 50" of concert photography. The lens is extremely fast with an F-stop of 1.2.
Add the blazing-fast 1.2 F-stop to a mirrorless camera and you have options you won't find in other camera bodies.
Extraordinary rendering across the entire frame makes this expensive lens a popular option for the point and shoot photography working the crowd as well as the performers.
PROS
50mm fixed length
Blazing fast autofocus
F/1.2
Z-mount
CONS
Why We Picked It
Not all concert photographers focus on the band, the actors, or the scenery. Sometimes the action is in the front row, on the balcony, or in the cheap seats out back. Think of Woodstock and you might think of a performer or two, but most likely you'll remember the people standing in the rain, covered in mud, and enjoying the concert while dancing with abandon.
The ability to carry this lens with no other equipment aside from the camera makes it a great choice for odd angles, backstage photos, and those sometimes awesome crowd shots. The blazing fast autofocus allows you to snap, run snap, and hope for the best, or to take your time and bring in those darkened images with the quick 1.2 F-stop.
Who It's For
This is the lens for inventive photographers looking for unique angles, unique photos of the band, the orchestra, the actors on stage, or the determination of the support staff. You might even get a shot of the roadies loading or unloading equipment, a shot that reveals part of the concert experience that many people never get to see.
The 50mm lens is the best "what you see is what you get" option in a fast, light-gathering lens. Advertised as having breakthrough autofocus, this lens is quick. It's great for all aspects of concert photography while having the versatility to be used in other venues such as weddings, portraits, street photography, and studio settings.
Nikon AF-S FISHEYE NIKKOR 8-15mm f/3.5-4.5E ED F/4.5-29 Fixed Zoom Camera Lens, Black
Best Fisheye Lens for Concert Photography
Bottom line:
The fish eye is a lens many consider out of time for current use, but a lens that can give you a leg up on the competition if you use it properly. There are times when a fisheye lens can create tremendous images, images that capture an entire stage full of performers from the front row, or if turned towards the audience that can capture a raucous crowd from corner to corner of even huge outdoor stadium crowds.
The horizon-to-horizon feature was once popular in magazines from Rolling Stone to National Geographic and now extends to the digital world.
This is a lens with options you won't find in standard lenses, even wide-angle styles.
PROS
Fisheye lens
Zoom from 8 to 15mm
F/3.5 to 4.5
Wide 180-degree field of view
CONS
Limited use
Light one-pound weight
Why We Picked It
We picked this lens for the creative photographer who is looking for a little more in concert options. The widest angle lens won't generate the images a fisheye will. It is not a universal lens and has just limited uses, but in the right setting, you won't find a fisheye with more options.
The faster 3.5 to 4.5 F-stop allows you to get quality, stop-action images in low to moderate light, and the fisheye captures the center, both edges, and all points in between with one quick click of the shutter.
Who It's For
At a moderate price, this is a lens everyone should throw into their camera bag. You're not going to use it every day, but when the time arises, it will get your work noticed. A concert gives you a lot of options to capture the full spectrum of people, and a fisheye can do it in an all-in-one style.
You'll get the fringes, the center, the band, the lead actor, and maybe even a stagehand hiding behind the current, just off-stage. It's the kind of lens that will produce creative, one-of-a-kind images.
Rokinon 14mm f/2.8 IF ED UMC Ultra Wide Angle Fixed Lens w/ Built-in AE Chip for Nikon
Best Wide-angle Lens for Concert Photography
Bottom Line:
A 14mm lens is one the shortest, widest angle lenses we'll take a look at here. The Rokinon 14mm is a fast lens as well with an F-stop of 2.8. This lens will capture almost as much of a concert stage or crowd as a fisheye lens but without the aspherical aspect.
This is an inexpensive lens, with limited use since it has a fixed 14mm focal length, but when used correctly it will bring in dozens, perhaps hundreds of people in a crisp, clear image.
At the price, you'll be able to afford to use it in settings that are out of the ordinary. This is a lens that everyone should have in their bag.
PROS
Wide-angle lens
Fixed 14m length
F/2.8
Inexpensive
CONS
Limited use
New manufacturer
Why We Picked It
Everyone should have at least one wide-angle lens. This one is inexpensive and fits the bill for almost every wide-angle setting. At 14mm this is a very short lens, with excellent light-gathering ability.
Fitted to a Nikon camera body, you can pull images from any lighting situation when adjusting white balance, ISO, and shutter speed. This is a lightweight easy-to-carry lens that can produce unique, creative images when your 50mm, and even a shorter 35mm lens just won't get the job done.
Who It's For
Without getting cute, this lens is for you. Affordable, and able to produce clear, crisp wide-angle images on a wide variety of Nikon DSLR camera bodies, this lens gets the job done, and at a very low price.
Everyone should have a wide-angle lens in their camera bag arsenal. The options for wide-angle imagery are perfect for this lens.
Buy one at an affordable price, and keep it until the time arrives for a creative wide-angle shot.
Nikon AF-S VR Micro-NIKKOR 105mm f/2.8G IF-ED Lens
Best Portrait Lens for Concert Photography
Bottom Line:
A focal length of 105mm is standard for most portrait lenses, providing just enough zoom for close-up shots, without violating personal space. This lens meets that standard while coming in with a decent F-stop of 2.8. Concert photography and portrait photography have many parallels, first, you're photographing people almost all of the time. There may be a few venues with backdrops or scenic vistas in an outdoor setting, but for most smaller concerts, the studio and the stage have a lot of parallels. The backlighting and backdrops can be similar, but concerts have more focal points to worry about with the autofocus set than a portrait studio does with a fixed backdrop.
PROS
Portrait lens
Fixed 105mm length
F/2.8
Moderate price
CONS
Fixed focal length
Limited field of view for stage work
Why We Picked It
If you shoot both portraits and concerts, why not use a lens that works for both venues? This is a lens that will provide a lot of options when you place yourself properly and it's easy to carry. The fast F/2.8 speed will bring in limited light in the evening, night, or indoor settings where diminished light, or even worse, variable light conditions have you changing your settings constantly.
The fast focus, ability to set the lens manually and knowledge required make this a challenging, but effective lens to use.
Who It's For
This is a lens for almost everyone. At 105mm it has a wide variety of portrait and concert options, options that will produce great images for novices and professionals alike. This is not an introductory lens, but a quality one that professionals often choose, and amateurs can use to create images on par with the pros.
Conclusion
The parallels between concert lenses and other lens applications can be blurred at times. A concert lens will work for many other venues, from wildlife with zoom options to fisheye, wide angle and portrait uses in the studio.
The concert scene is a challenging one to shoot with constantly changing lighting, wide stages filled with action, and at times nature as a backdrop with twilight adding challenges to the artificial light present on stage.
All these come into focus (pun intended) for the enterprising concert photographer.