By now anyone shooting with an older SLR camera body has probably at least been curious about swapping over to a mirrorless digital camera. If a full-frame mirrorless interchangeable-lens camera (MILC) is still out of reach for your budget, the Nikon Z 50 might hit the spot. The advantages of mirrorless digital cameras in terms of size and lens quality are clear.
The Z 50 cropped frame camera is the first Nikon mirrorless with an APS-C sized sensor—which Nikon calls DX. The earlier Nikon 1 series of smaller cropped sensor mirrorless cameras was discontinued in 2018. Since then, Nikon has released three full-frame mirrorless cameras—the Z 6 and Z 7 in 2018, followed by the Z 5 in mid-2020. The Z 50 was released at the end of 2019 and uses the same Z mount as its full-frame bigger brothers.
The Nikon Z 50 is a decent everyday camera that performs well. Images and video are both good quality on the Nikon Z 50 mirrorless digital camera, and firmware updates since the initial release have fixed a number of niggles.
Yet, there are more players in the cropped frame mirrorless interchangable-lens camera (MILC) market than the full-frame market. Nikon faces some formidable rivals with well developed ranges.
The Z50 body is available as a kit with the Nikkor Z 16-50mm F3.5-6.3 VR, or with a two lens kit that also includes the longer Nikkor Z DX 50-250mm f/4.5-6.3 VR. In the box you will also find a EN-EL125 rechargeable battery plus MH-32 charger and USB cable. There's also a strap, and body cap.
The Nikon Z 50 at a glance
Pros
Excellent ergonomics
Rear screen flips down 180°, so works for selfies and vlogging
Built-in flash
4K video capabilities
Uses the new Nikon Z mount mount lenses
Cons
Cannot use touchscreen to move AF points when using electronic viewfinder
No in-body image stabilization (IBIS) and relies on IS lenses
No headphone jack
No sensor cleaner
Z mount lens selection not extensive and you need a separate FTZ adapter to use the F mount lenses
Review Summary
The Z 50 is a cut down version of the full-frame Z series bodies, and the mirrorless equivalent of the D7500. What sets it apart is no LCD screen on the top, and its DX sized sensor. It has an excellent build quality for this price level, with metal top and bottom covers. Inside there is a strong magnesium alloy chassis, and the body is weather sealed—though not quite to the degree of the Z 6 or Z 7. It is sturdy and lightweight.
The 21 megapixel CMOS sensor on the Z 50 has a maximum resolution of 5568 x 3712 pixels. This APS-C format sensor is 23.5 x 15.7 mm, which results in a focal length crop that is 1.5x. In simpler terms, that means that whatever the lens focal length is when used on a standard 35mm full-frame, it becomes 1.5 times that on the APS-C camera. So, a 50mm lens has a field of view which looks like a 75mm lens on the Z 50.
Image quality and color coming out of the Z 50 is excellent. It has great low light performance and even high ISO images don't get too noisy. The wide lens mount allows plenty of light on the sensor, dynamic range is good and images can be brightened well and not lose detail.
Many digital cameras, including the bigger Nikon Z 5, Z 6 and Z 7 all have electronic sensor cleaning. This vibrates the sensor to remove the dust, but is unfortunately missing from the Z 50.
There is a mechanical shutter which manages up to 5fps and an electronic shutter which will go to 11fps. The electronic shutter also allows silent shooting. In the base you will find the single SD card slot which is accessed via the battery door.
Who is the Nikon Z 50 for?
The Nikon Z 50 is light and practical for everyday shooting and travel. It is not a camera for a pro, but definitely a very capable mid-priced camera that does more than enough to meet casual and enthusiast shooters' needs. Non-photographers who enjoy shooting images and want to jump over to a mirrorless digital camera will be pleased.
This camera also boasts a few features which really add to its appeal for content producers and vloggers. That is those people who have something else as their main hobby or small business and need a decent camera to document that. They might want the option to get a bit more creative than a phone camera offers.
Nikon has released a 'Creators Kit' with just these social media savvy users in mind. It is excellent value for money, and adds a mini tripod, a Røde VideoMicro microphone, and a mounting plate which makes it easy to still see the screen when set up. It also includes a bag and access to some online content creation classes.
However, if you are a landscape shooter, then you would be better to consider one of Nikon's full frame mirrorless bodies. You will get better details with the higher resolution of the Nikon Z 5, Z 6 or Z 7. Similarly, if you want to shoot action and sport, the Z 50 might struggle to keep up, and it might be worth looking at some of the Sony mirrorless cameras.
With its small size and great ergonomics the Z 50 may also capture some more serious Nikon users who want a handy go-anywhere weekend and vacation camera.
Key Features and Benefits of the Nikon Z 50 Mirrorless Digital Camera
Autofocus System
The AF system on the Z 50 performs well. It uses a 209-point hybrid phase-detection/contrast detection AF system, which covers 90% of the frame. Like other mirrorless cameras, the AF detection pixels are part of the image sensor. It is fast and accurate in most conditions, but can struggle in low light.
Thanks to a new firmware update, the subject tracking has been improved. But, it won't keep pace if you need it to auto-select the focus area, and also track fast or erratically moving subjects. It requires more button presses than other AF systems.
The update also enabled animal detection AF for cats and dogs. The Z 50 will now track animal faces and eyes. Brilliant and helpful for those pets that never sit still for their portrait, and whose noses are prone to catch the attention of AF systems.
The system automatically selects to track faces or eyes depending on how far away the subject is. You can easily select to focus on different pets or swap from one eye to the other.
If you need to manually focus, just move the focus ring and it automatically overrides autofocus. No need for any setting changes or to be in a special mode. It always works.
Rating:3.5/5
Ergonomics & Controls
This camera is a breeze to use. The grip is comfortable and controls are mostly exactly where you want them to be. The buttons for menu, playback, delete and other functions are all on the right. It is great for single handed camera operation. Perfect for a lightweight camera, and just as a mirrorless camera should be.
There are two control dials on the top—at the front and rear—which is the same as on other Nikons. The main mode dial on top features two positions where custom settings can be saved. Two function buttons on the front near the lens mount can also be customized to suit your preferences.
The menu system is logical and easy to use. Your 12 most used main menu items can be customized and placed in the easy access i menu. The default i menu includes controls for such things as picture mode, image quality, white balance, AF area and mode, shutter release mode, metering mode and face tracking.
In line with this being a consumer level camera body, there are a nice range of Creative Picture Controls and Special Effects. These can be applied to still images or video, and seamlessly previewed in real-time.
Rating: 5/5
Rear LCD and Touch Screen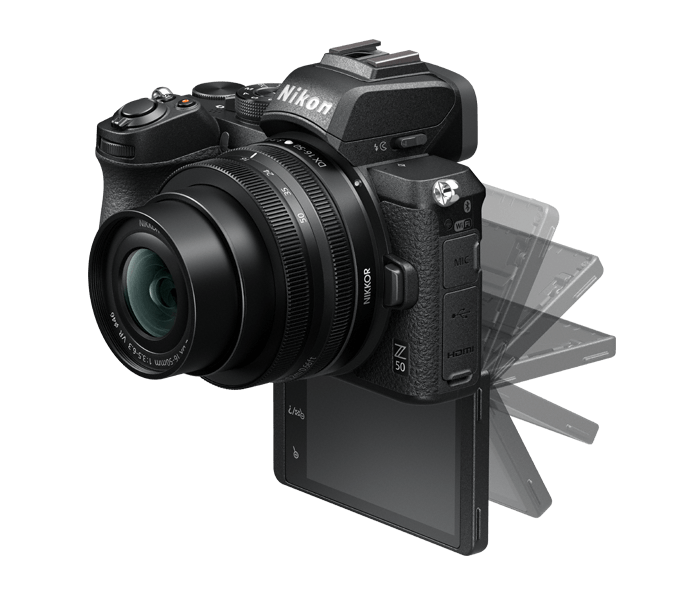 The touch screen on the back of the Z 50 is excellent, and does almost everything you need.
It is a 3.2 inch LCD screen with a respectable 1.04M dot resolution. The screen tilts 90° up and out on a hinge so it can be seen past the prominent eye piece. But, the big advantage is that it also flips down 180° to work in self portrait mode.
You can use the touch screen functionality to select the AF point, playback images and control options in the i menu. You can also enter text with the touchscreen. Unfortunately, it does not work to control the AF point when looking through the viewfinder.
There are three controls additional on the right of the screen—zoom in, zoom out and display. The printed icons are easy to see when looking at the screen, but without actual buttons hard to find when using the viewfinder. There is only manual control for screen brightness.
Rating: 4/5
The Electronic Viewfinder (EVF)
There is no question that the Z 50 features a very nice viewfinder. It is clear and crisp, as well as easy to use. The eyecup extends out quite a way from the body. A feature which makes it very comfortable to get your eye really close, to clearly see the screen inside. Even in bright sunlight.
The 2.36M dot OLED is not the highest resolution out there, but fits this mid-level price. It gives 100% coverage and accurately previews the exposure, corrections and picture style you will get in your image files.
The EVF screen wakes up when you put your eye to it, though there is always a momentary delay. The monitor button lets you select automatic switching. Alternatively, you can set it to use only the viewfinder, or only the screen. The screen goes black when you take an image, so again it is not ideal for following fast action.
Rating: 4/5
Video Capabilities
Switching to shoot video and back to still images is very straight-forward. A quick move of a rotating leaver on the main top dial and you are done. Separate exposure and other settings are can be selected for each of the two modes, so you never have to fiddle to find the right settings to start shooting.
The Z 50 is a competent 4K video (3,840 x 2,160) camera. It will shoot up to 30fps for 4K, and for slow motion up to 120fps in full HD video (1,920 x 1,080). It is also possible to shoot time lapse videos. Maximum recording time remains at 29 minutes 59 seconds.
In the self-portrait mode, using the flipped down screen, video is always shot in full-time auto focus mode (AF-F).
Adding appeal for the social media user, video clips can be edited in-camera. That means you can shoot a clip, trim it and with Nikon's SnapBridge app send it straight to your phone to be posted immediately.
The Creative Picture controls and Special Effects are all available for video shooting. However, there is no log mode. There is a mic jack, but no headphone jack for play back.
Rating: 4/5
The Nikon Z mount system and lens support
There is a mix of good and bad news in the lens department for the Z 50. The first good point is that it gets the excellent new Nikon Z mount, with its wide 55mm diameter, short 16m flange length and promise of top quality lenses.
The two Nikkor DX kit lenses also come with Nikon's image stabilization, called Vibration Reduction. With its compact size, the Nikkor Z 16-50mm F3.5-6.3 VR is quite impressive and nicely in balance with the body. It is sharp, has almost no distortion, and can focus as close as 0.2 m/0.66 ft at 24 mm. Keep in mind the angle of view on the DX sensor is actually 24-75mm.
There is also the longer focal length Nikkor Z DX 50-250mm f/4.5-6.3 VR, which is equivalent to 75 – 375mm on full-frame. Unfortunately, a focus distance scale is missing on both of these lenses.
However, beyond that all other Z mount lenses are the full-frame FX format. For those photographers who already have Nikon glass, the options increase with the FTZ adapter. F mount lenses perform well and autofocus works for any lens with a built-in AF motor, but is not perfect for all F lenses.
Two new teleconverters have now been added to the range and firmware updates available to accommodate them. The teleconverters will increase the focal length of lenses by either 1.4x or 2.0x. The pay off is a decrease in the maximum aperture by one or two stops.
Additional features to note
The Z series cameras connect to smart phones via Nikon's SnapBridge app and using the built-in wifi or bluetooth. The app functions as a remote shutter release, allows camera settings to be adjusted, and the phone screen to be used as a remote monitor for both video and still images.
The EN-EL25 batteries can be charged directly in camera. Simply plug the Z 50 into any power source using a standard USB cable (micro-B not USB-C though). To charge a second EN-EL25 battery, Nikon also includes the MH-32 external charger. Battery life is good, and usually goes well above the rated 320 shots using the screen.
There is a handy built-in flash, but this won't command the external Nikon flash units. You will still need to get a bigger flash to sit on the hot shoe for that.
The Z 50 has no GPS, like most other mirrorless cameras. But, again SnapBridge can be used for geotagging.
How does the Nikon Z 50 stack up against the competition?
Overall, the Nikon Z 50 is a very snappy and competent camera. However, it does face some stiff competition and in some areas other mirrorless cameras win out. Here we compare it to three other APS-C mirrorless bodies by Sony, Canon and Fujifilm. All these mirrorless bodies are under $1000.
The strong point of the Sony and the Fujifilm bodies is their excellent autofocus systems. But, the ergonomics and build quality, including some weather sealing, make the Nikon Z 50 more comfortable and versatile to use.
The flip-down front facing screen of the Z 50 is overall a more useful setup than the flip-up screens. Once you mount it on a tripod with a bracket to off-centre it, accessories can still be added to the hot shoe without obscuring the screen view.
Quick Comparison Guide
Nikon Z 50
Canon EOS M6 Mark II
Sony a6400
Fujifilm X-T30
Sensor – pixels
20.9MP
32.5MP
24.2MP
26.1MP
Sensor size
APS-C (DX)
23.5 x 15.7 mm
APS-C
22.3 x 14.8mm
APS-C
23.5 x 15.6 mm
APS-C
23.5 x 15.6 mm
Maximum resolution
5568 x 3712 pixels
6960 x 4640 pixels
6000 x 4000 pixels
6240 × 4160 pixels
Sensor self-cleaning
No – only dust-off reference file
yes
yes
yes
ISO
100 – 51,200
exp. to 204,800
100-25,600
exp. 51,200
100 – 32,000
exp. to 102,800
160 to 12,800 exp. 80 to 51,200
AF system
209 point hybrid phase detection/ contrast detection AF
Dual pixel AF with 143 AF points
Hybrid AF
425 point phase detection / contrast detection AF
425-point hybrid AF


Viewfinder (EVF) resolution
2.36M dots
optional, 2.36M dots
2.36M dots
2.36M dots
Rear Screen
tilting touchscreen
1.04M-dots,
-flips down 180º for self portraits
tilting touch screen
1.04M-dots
-flips up 180º for self portraits
tilting `screen
922K
-flips up 180º for self portraits
two-way tilting touchscreen
1.04M-dots
Maximum Frame Rate
11fps – electronic shutter
5fps- mechanical shutter

14fps
30 ps – RAW burst mode
11fps – continuous shooting
8fps – with live view, & in silent mode
20fps – electronic shutter
8fps – mechanical shutter
Video Capture
4K up to 30fps
Full HD up to 120fps
4K up to 30fps
Full HD up to 120fps
4K up to 30fps
Full HD up to 120fps
4K up to 30fps
Full HD up to 120fps


Log modes
none
none
S-Log2, S-Log3, HLG
4:2:2 8-bit – HDMI
F-Log
4:2:2 10-bit – HDMI


Battery Life
(CIPA)
320 LCD/ 280 EVF
305
Eco mode: 410
410 LCD/ 360 EVF
380 LCD/ 360 EVF
Cable release port
No – use SmartBridge app
Wireless, cabled or
Standard threaded cable release
Built-in flash
yes
no
yes
yes
Lens mount
Nikon Z
Canon EF-M
Sony E-mount
Fujifilm X
Card slots
1 x SD cards
(UHS-II)
1 x SD card (UHS-II)
1 x SD card (UHS-I)
1 x SD cards
(UHS-I)
Dimensions (approx.)
5 x 3.7 x 2.36″
127 x 94 x 60 mm
4.72 x 2.76 x 1.93″
120 x 70 x 49mm
4.7 x 2.64 x 2.36″
120 x 67 x 60 mm
4.66 × 3.26 × 1.84″
118.4 × 83 × 47mm
Weight –
with battery and card
397g
408g
403g
383g
Nikon Z 50 vs Canon EOS M6 Mark II
The Canon EOS M6 offers a much higher resolution than the Z 50, at 32.5MP. But, this is crammed onto the same size APS-C sensor. Without a raised SLR style viewfinder, it is smaller than the Z 50, but a little heavier. The EVF on the Canon M6 Mk II comes as an optional separate unit, that boosts its overall size.
AF point control with the touch screen on the EOS M6 II works great and is superior to using the 4 way controller on the Z 50. The burst speeds on the Canon also beat the Z 50, and with some compromises the EOS M6 II can shoot at 30fps in its Raw Burst mode. Image quality on both cameras is solid, but not outstanding.
There's a couple things the Z 50 does that are missing on the EOS M6 II. The M6 II has no ability to use the camera as a webcam, no anti-flicker control, nor animal eye AF.
Once again the range of well priced native lenses available for the EOS M6 II is more extensive than for the Z 50. Depending on your needs the two excellent Z50 lenses might be enough, but the Canon EF-M mount range offers primes and wider aperture options.
Check out the Canon EOS M6 II if you are looking for a really compact body mirrorless, or high burst speeds.
Nikon Z 50 vs Sony a6400
Sony has been in the mirrorless camera game for longer than Nikon. Their technology is very well developed and their autofocus is exceptional. The a6400 will stick to your subjects better and is less likely to be distracted compared to the Z 50. The a6400 has animal eye AF, which also works for wildlife, not just cats and dogs.
However, the feel and ease of use of the Z 50 wins out. The Sony is smaller but boxy and not as comfortable or ergonomically satisfying to use. This becomes more evident when larger lenses are used. The buttons, dials and menu system on the Nikon Z 50 are also far superior and clearer to navigate.
The a6400 has the same Sony E mount as all of their mirrorless cameras. There's a vast range of lenses, including many from third party manufacturers. You'll also get NFC for connecting easily to your devices, and better options for video, including unlimited recording lengths.
The Sony a6400 is a very impressive camera that comes at a slightly higher price than the Z 50.
Nikon Z 50 vs Fujifilm X-T30
The Fujifilm X-T30 is a very popular entry level mirrorless camera. It is a cut down version of Fujifilm's former flagship X-T3, that has just been superseded by the new X-T4. The small body has a similar super stylish retro design with direct control dials. You also get access to many more lenses with the Fuji X mount.
The X-T30 has the same 26.2MP sensor and processor as it bigger brother. Autofocus is outstanding and does beat the Z 50, yet its tracking is still not ideal for sports and action. Though it will give you 20fps bursts.
The screen size on the X-T30 is comparable to the Z50, but it won't flip to be front facing. It will shoot 4K and the wider DCI 4K, plus Full HD video but the longest recording time is 15 minutes, and only 10 minutes for 4K.
There might be an X-T40 on the way by 2021 or in the new year, so prices on the nifty and compact X-T30 look great right now.
You can take a look at the Best Mirrorless Cameras Under $1000 for more options.
Conclusion
Overall, the Nikon Z 50 is a very useable mirrorless digital camera. The ergonomics and build quality make it stand out from its peers. Though not a clear winner in all areas when put against other APS-C mirrorless cameras, the Z 50 delivers great quality images.
For content creators Nikon seems to have added just the right sweeteners and social media users and vloggers will definitely be picking up the Z 50. The 'Creators Kit' makes it very simple to get going with content production immediately.
If you are already a Nikon user and have a range of lenses, the Z 50 is a super little additional body for every day shots, or travelling.