So you're in the market for a new camera and you've narrowed down your choices between two AMAZING cameras: The Nikon D500 vs D850.
It's definitely an EXCITING 35mm full-frame vs. APS-C clash of camera bodies from Nikon!
Technically speaking, the Nikon D850 tops the D500 features-wise, but that doesn't mean you should leave the other out of your considerations!
Both models are ranked among the BEST in DSLR (Digital Single Lens Reflex) cameras and we'll be showing you why, to help you decide the right one to buy.
Clash of Cameras: The Nikon D500 vs. D850
Nikon D500: A Reliable APS-C Fast Shooter
The Nikon D500 has been a household name for amateur and professional photographers for years. It's definitely a staple camera body in the arsenal of sports and wildlife photographers.
Taking the spot as the flagship APS-C sensor camera in the DX series, this is a PORTABLE POWERHOUSE that wouldn't disappoint with the versatility and features that it packs in such a small body frame.
It also has a lighter weight and a more compact body than the Nikon D850, so bringing this around will definitely be more comfortable!
With the ASTOUNDING image quality it produces, comfortable shooting grip, and a lightning-fast autofocus system, it's the quick shooter's dream come true!
THINK ABOUT IT: This little beast can do continuous shooting up to 10 frames per second.
Talk about a REALLY FAST shutter speed, huh?
So it's best you don't write this APS-C sensor camera off, it can definitely hold itself high and well!
It's capable of shooting in low-light without any problems, shoots quickly in continuous shooting mode, and boasts camera body durability. What more can photographers ask for?
Specs
Body Weight: 760g
Body Material: Weather Sealed
Lens Mount: Nikon F lenses
Available Compatible Lenses: 309
Sensor: 20.9 MP DX-Format APS-C CMOS Sensor (23.5 x 15.7 mm)
Focal Length Multiplier: 1.5x
Autofocus: 25, 72 and 153 points / 99 cross-type focus points
Viewfinder: Optical pentaprism
Video Settings: 4K Video: 24p-30p / 1920 x 1080 Video (FHD): 24p-60p / 1280×720 Video: 50p-60p
ISO: 100-51,200
Shutter Speeds: 1/8000 – 30 seconds
LCD Screen: 3.2″ Touch screen Tilting LCD
Flash Sync: Hotshoe (Syncs up to 1/250 seconds)
Audio: Stereo and 3.5mm jack
Connectivity: Wi-Fi, Bluetooth
Battery Life: 1,240 shots
Exposure Compensation: Yes
In-Body Image Stabilization: None
Anti-Alias Filter: None
UHS-II Compliant: Yes
Live View: Yes
Pros
Amazing image quality thanks to the sensor
Great performance even in high ISO
The touchscreen display is sharp and easy to view
Fast and reliable burst shutter speed
Easy to carry because of smaller body size and body weight
Cons
Larger than the usual APS-C cameras in the market, since it's almost the size of a full-frame
Expensive for a DX camera
No built-in flash
No image stabilization in the body
Smaller viewfinder magnification
Nikon D850: One of the Best Full-Frame Cameras In The Market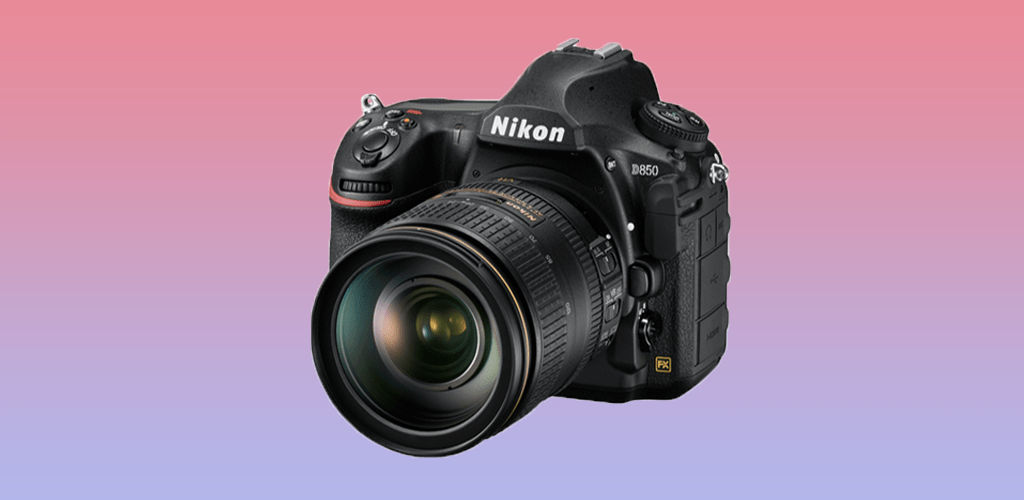 In photography, versatility with your camera is the name of the game. With the Nikon D850, you get a notably higher sensor resolution and greater flexibility with its features.
Capturing the PERFECT SHOT is now made easier for photographers and videographers alike with this full-frame flagship powerhouse from Nikon!
A notable highlight for the Nikon D850 is the full-frame sensor that performs EXCEEDINGLY WELL and has gained the respect of photographers all around.
The larger sensor size also gives it a SIGNIFICANT ADVANTAGE over the Nikon D500's APS-C sensor!
Just imagine all the advantages that this BEAST brings, thanks to the EXPEED 5's image processing!
Can capture portraits and fast action subjects at 45.7 megapixels
Wider dynamic range
High-speed continuous shooting
4K UHD video recording
With all of these inside a convenient little package known as the Nikon D850 camera body, it DEFINITELY topples over the Nikon D500, specs-wise!
People with a knack for various disciplines like landscape and portrait photography will LOVE this release.
Specs
Body Weight: 915g
Body Material: Weather Sealed
Lens Mount: Nikon F lenses
Available Compatible Lenses: 309
Sensor: 45.7 MP FX-Format CMOS Sensor (35.9 x 23.9 mm)
Focal Length Multiplier: 1x
Autofocus: 9, 25, 72, or 153-point dynamic-area AF, 3D-tracking, group-area AF
Viewfinder: Optical pentaprism
Video Settings: 4K Video: 24p-30p / 1920 x 1080 Video (FHD): 24p-60p / 1280×720 Video: 50p-60p
ISO: 64-25,600
Shutter Speeds: 1/8000 – 30 seconds
LCD Screen: 3.2″ Touch screen Tilting LCD
Flash Sync: Hotshoe
Audio: Stereo and 3.5mm jack
Connectivity: Wi-Fi, Bluetooth
Battery Life: 1,840 shots
Exposure Compensation: Yes
In-Body Image Stabilization: None
Anti-Aliasing Filter: None
UHS-II Compliant: Yes
Live View: Yes
Pros
Top of the class resolution at 45.7 megapixels
Wide and excellent dynamic range
Fast autofocus and burst shooting
Full frame sensor
0.75x magnification in the viewfinder
Cons
30-minute video clip limit
Sluggish live view with the contrast-detect autofocus
No image stabilization in the body
The Difference Between the Two Cameras: Features and Specs
Now that we know the key features for both cameras that are worth noting, let's get into the MAIN DIFFERENCES for each so we can help you reach your camera decision!
Battery Life
When it comes to taking photos on the field, of course, we all know having a longer battery life is BETTER!
It's a COMPLETE HASSLE to always run out of batteries at the wrong time during a shoot, right?
The Nikon D850 dominates over the D500 in this aspect, according to CIPA tests with the D850 performing 50% better than its counterpart.
Winner: Nikon D850
Sensor Size
The sensor is one of the MOST IMPORTANT parts of the camera because this dictates the quality of the images that you shoot as you click the shutter!
A good sensor dictates the RESOLUTION AND DETAIL you get with an image as well.
With this in mind, the Nikon D850 and its larger sensors (35.9 x 23.9 mm) enable it to have an INSANE 45.7 megapixels for that TOP NOTCH image quality and dynamic range to the Nikon D500 sensor (23.5 x 15.7 mm) at 20.9 megapixels.
FUN FACT: The Nikon D850 has higher DXOMARK Sensor Scores in all categories!
Dynamic range rating or DXO Landscape: 14.8
Color depth rating or DXO Portrait: 26.4
Low-light sensitivity or DXO Sports: 2660
DXO Overall Score: 100
Now, how's that for a top-of-the-line Nikon sensor to capture STUNNING images?
Winner: Nikon D850
Body Weight and Body Size
If you prefer to take photos on the go, you might prefer smaller, lightweight, and compact cameras that you can easily bring around.
The Nikon D500 should be your camera of choice because it's a bit lighter and smaller if you compare it to the Nikon D850.
The difference isn't a significant amount but we think it's still worth noting especially if you're bringing multiple cameras with you!
Winner: Nikon D500
Viewfinder Magnification
When it comes to shooting, having the right kind of viewfinder magnification matters A LOT!
Having ample magnification in the viewfinder enables you to see and shoot FINER DETAILS, especially when you're doing macro photography with manual focus.
With the Nikon D850, you get a better overall frame through the viewfinder with 0.75, compared to the 0.67 of the Nikon D500.
Winner: Nikon D850
ISO Mode
The ISO range is IMPORTANT…
Why? Because it dictates the brightness of the photos that you're taking, of course!
A HUGE CONSIDERATION that a lot of people consider is a camera's ability to have low light ISO performance. The Nikon D500 offers a wider range with 100-51,200 compared to the Nikon D850's 64-25600.
Winner: Nikon D500
Burst Mode
If you're shooting high-action photos like sports and wildlife, a burst mode is ESSENTIAL! The Nikon D500 offers a higher burst with 10 FPS compared to the 7 fps of the Nikon D850.
It's no wonder why a lot of people prefer the Nikon D500 for wildlife shooting, and it's because of this feature!
Winner: Nikon D500
Slow Motion Shooting
Slow-motion video shooting is an AMAZING tool to have in your camera, especially if you're an event or commercial videographer!
The Nikon D850 enables you to shoot a video with a WHOPPING 120 fps at 1080p for that FULL HD slo-mo goodness!
Winner: Nikon D850
The Verdict
In this Nikon D850 vs Nikon D500 comparison, the overall score of the full-frame flagship topples the Nikon D500 with its features in key areas like the larger sensor area, battery life, and slow-motion video ability!
What Do They Both Have?
Of course, we also have some key features that both cameras have that are worth noting to help you decide on your next camera purchase!
Weather Proof Body
Both the Nikon D850 and the Nikon D500 have a STURDY BUILD and AMAZING WEATHERPROOFING that can give you peace of mind when you're out and about.
Pristine LCD Screen
The AMAZING LCD display that both the Nikon D850 and the D500 have gives you added flexibility for your photography.
Getting your shots in the frame via live view is now made easier with the 3.2-inch touch screen.
Dual SD Card Slots
Dual card slots are a HIGHLY USEFUL feature that not a lot of cameras have are dual SD card slots for that added flexibility and storage.
Just imagine having all the convenience with added storage in your camera!
Hotshoe For External Flash
Get your favorite Speed Light flash ready!
Both cameras don't have a built-in flash, the Nikon D850, and Nikon D500, you have the option of adding your own external flash through the hot shoe at the top of the camera!
So Which One Is the Right Camera for You?
So maybe you're still wondering which of the two cameras is the right one for you, huh…
Don't you worry! To simplify things better we made this mini-guide for you to check out to help you decide between the Nikon D850 vs the Nikon D500!
Choose The Nikon D850 over the Nikon D500 If…
You love sharper and clearer image detail that's possible with its 45.2-megapixel full-frame sensor resolution
Capturing a wide range of light dynamics in your images matter to you, especially if you do landscape photography
Color depth is the name of the game for you with 2.4 bits higher color depth compared to the Nikon D500
You need flexible shooting through reliable low light sensitivity
Longer battery life matters to you
You prefer a higher magnification on your viewfinder
Choose the Nikon D500 over the Nikon D850 If…
You want a compact and light weight camera body to carry around with you for a shoot
You want a camera that can perform well at a high shutter speed for FAST-ACTION photos
The full-frame Nikon D850 price tag is out of your budget since the Nikon D500 is MORE AFFORDABLE, so you can buy more lenses
Wildlife photography is your passion since a lot of professional photographers HIGHLY recommend this camera due to its reliable continuous shooting mode
You prefer an APS-C CMOS sensor size
FAQs
Is the Extra Money Worth It to Invest in the Nikon D850 vs. Nikon D500?
With the additional features that the Nikon D850 packs like the better image quality and extra dynamic range, it's definitely worth it!
Of course, the Nikon D500 has all the essentials you need in a camera, but having special features that the D850 has makes it SHINE, especially for professionals who need that EXTRA EDGE.
APS-C and Full-Frame Sensor: What's The Difference?
If you're debating with yourself if you should make the jump between a crop or a full sensor, just think of it this way to compare them…
A full-frame sensor is the equivalent of a 35mm frame of film, while an APS-C sensor is smaller by a little bit.
Mounting a 50mm lens on an APS-C will provide you with the field of view (FOV) of a 75mm lens because of the 1.5x crop factor, compared to a full-frame that will give you a true 50mm FOV.
The view comparison for both is different, as they can give you different focal lengths depending on the sensor you use!
Learn more about the two kinds of camera sensors here!
What Are the Best Lenses to Get for Both the Nikon D850 and D500?
If you're looking for the perfect camera lens to go with your Nikon camera of choice, better check out these RECOMMENDATIONS!
Standard Zoom Lens: Nikon 24-70mm F2.8E ED VR
Telephoto Lens: Nikon AF-S 70-200mm F2.8E FL ED VR
Prime Lens: Nikon 35mm f1.8G
Our Verdict
We've finished our EXCITING CAMERA CLASH between the Nikon D850 vs the Nikon D500, and the D850 is the clear winner by means of TECHNICAL FEATURES!
But don't get us wrong though, the Nikon D500 is also a stellar performer of a camera that has all the basic things you need for your photo journey.
We hope we helped you decide on the right Nikon camera for you!