Finding the best lens for capturing nature with your Nikon camera can be a challenge. There are the challenges that all photographers face with angle, light, background, and finding the subject to shoot, and there are the challenges found there in your hands in selecting the right lens for the situation.
Nature photography can mean capturing geese in flight, a trout breaking the surface of the water after a mayfly or water droplets on a leaf after a morning rain.
We'll help you find the lens you need for the style of nature photography you're pursuing.
Here Are the Top 7 Best Nikon Lenses for Nature Photography!
The Best Nikon Lenses for Nature Photography Rationale
This isn't studio photography, proper speed, focus, and depth of field are vital in getting that perfect shot. Manual settings that can override the autofocus features so prevalent on the latest models of Nikon cameras and the lenses they use is also essential, but perhaps the most important aspect of a good nature lens is magnification, and its polar opposite, the ability to focus crisply on a subject just inches away.
A macro zoom lens is the best option for both. With the right lens you can capture that distant doe and fawn clearly, and with the same setup, get a tight focus on a honeybee pollinating a cherry blossom.
There are many lenses that are excellent at distance, and others that are superior for close-range work. Let's take a look at what's out there.
Nikon 200-500 mm/F 5.6 AF-S NIKKOR E ED VR
Bottom Line:
Sometimes you just have to reach out and touch your subject. There are longer telephoto options but a 200 to 500mm zoom brings a lot of wildlife into range without a lot of effort. The fixed F/5.6 lens offers tremendous light-gathering capabilities in broad daylight, and with careful adjustments for ISO and shutter speed you can capture crisp, clear images in a broad spectrum of light from the dimness of early morning (often when wildlife are most active) to the brightest sunlight afternoon.
This is one of the best Nikon lenses for wildlife photography due to its variable zoom. Sometimes a wider image can capture the moment, but often, you'll want to zoom close to the subject, capturing the essence of the eagle, even closing in so close you can see the reflection in the eyes of the majestic bird. This lens will give you that ability.
When looking for the best lens for animal photography Nikon created this 200-500mm zoom for optimal variability. It's a heavy lens, with a lot of glass, but it delivers a solid image, and at the price is on the list of the best zoom lens for nature photography.
PROS
Excellent variable zoom
500mm length
High-speed autofocus
D series compatible
F/5.6
CONS
Expensive for consumer-level lenses
Heavy – almost five pounds
Requires a tripod for many users
Why We Picked It
Let's just zoom to the answer because the answer is zoom. The 200 to 500mm zoom far outdistances the standard 70 to 200mm zoom lenses most novice photographers begin with and is a far better lens than more advanced 70 to 300mm zoom lenses. The additional length, along with the 5.6 F-stop make this a camera you can use in almost every wildlife photography scenario you can imagine.
It may not be among the best Nikon lenses for nature photography since many times you'll want a lens with a much closer focal range, but for distance work, you can't beat the performance for the price.
You can find larger lenses, with lower F-stops, but you won't find them at this price. If you're not on an unlimited budget, this 200 to 500mm might be just what you're looking for.
A zoom lens gives you a wide variety of options on the same subject. I had a 1000mm lens for a while, but with an F-stop of 22, it was very limited, and keeping it from wobbling without a tripod was ridiculous.
I've taken my 100 to 300mm zoom lens to Yellowstone a few times, and shot a lot of elk, coyotes, grizzly bears, wolves, and moose nearer to my farm in Central Wyoming and often wish I had a more powerful zoom lens to capture the action. You won't have to hope with this Nikon offering.
Who It's For
This lens is one that bridges the gap between novice and professional. It's easy to use for the beginner and with the advanced auto features in current Nikon camera bodies, you're going to get great photos no matter your experience level.
If you are an experienced photographer, even if you're a professional, this lens will deliver the options, and performance you're after. It's a great choice in zoom action.
You'll be in league with the Paparazzi with this zoom set at its maximum of 500mm. The ability to grab clear, crisp images at long range is imperative in wildlife photography.
If you're shooting grizzly bears, mountain lions, or even bison in their native habitat, distance is your friend with these dangerous animals.
Nikon 18-200mm f/3.5-5.6G AF-S ED VR II Nikkor Telephoto Zoom Lens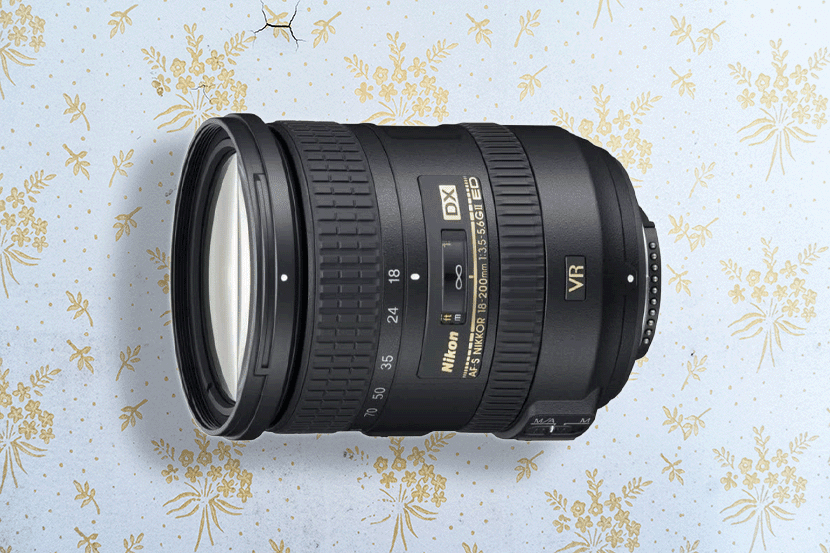 Best budget Nikon lens for nature photography
Bottom Line:
If you're looking for the best Nikon lenses for landscape photography and don't want to spend a fortune, you can find excellent performance in this moderately priced lens. The price is moderate, but the performance is more than adequate for most outdoor adventures with your camera.
The 18-200mm zoom offers an excellent range from wide-angle photographs to tight-focused shots of animals and objects within a few dozen yards. At the price, this consumer-friendly model can be considered one of the best lenses for nature photography you can buy.
The 3.5 to 5.6 F-stop range makes it a good choice for limited light. Set at 18mm you can capture sunsets, and sunrises or get high-contrast images of trees, rock formations and animals highlighted against the backdrop of the rising or setting sun.
This is a low-priced option for people on a budget, but it remains one of the top choices for the best Nikon DX lens for nature photography.
PROS
Price
18 to 200 zoom
High-speed autofocus
DX compatible
3.5 to 5.6 F-stop
CONS
Seven blade aperture
Slower autofocus
Why We Picked It
Not everyone works with an unlimited budget. If you're short on cash but have a passion for photography, you don't have to gamble on the used lens market to find quality. This inexpensive creation is among the best camera lenses for nature photography you can find without breaking the bank.
The variability of a lens that compresses down to 18mm for wide-angle shots combined with a respectable 200mm zoom for distant closeups makes this a solid choice for many photographers.
Nature photography presents challenges you won't find in a portrait studio, or even around the house with standard artificial light. The extremes of light, weather, and the angle of the sun present many challenges to the aspiring photographer and the seasoned veteran alike. We chose this lens because the focal range and faster F-stop are compatible with many conditions you'll find on the beach, or in the woods.
To top it off, it is portable, lightweight, and sturdy so you'll be able to pack it into the backcountry with little extra weight in your pack. Best of all, you'll still be able to capture excellent images a long way from civilization.
Who It's For
This lens is for anyone who works on a tight budget but still wants top quality. The 18 to 200mm offers a wide variety of options from tight zooms to wide panoramic shots. If you could afford just one lens, this would be the one to purchase.
Nikon AF-S FX NIKKOR 600mm f/4E FL ED Vibration Reduction Fixed Zoom Lens with Auto Focus
Best long-distance telephoto lens
Bottom Line:
For the price of a good used car, or maybe a side-by-side UTV you too can own this lens. Make no mistake, this is an expensive lens, but then again, you get what you pay for, especially in the photography world.
A 600mm is roughly equivalent in magnification to a pair of 12X binoculars. That's a tremendous amount of magnification.
This is the best Nikon FX lens for nature photography, especially for bird photography. Shooting closeups of birds is a popular photographic pastime requiring great patience. Getting shots of nesting or roosting birds is easy but capturing birds in flight is a challenge.
This lens, with a fixed F-stop of 4.0 when properly calibrated on even an average camera body has the ability to freeze even hummingbirds in flight.
The fixed 600mm length requires the ability to know your subject and set it up in an area where the images come to you rather than bringing your focus to them since there is no zoom capability, but the images are incredible.
PROS
600mm length
Crisp 12x magnification
FX compatible
4.0 F-stop
Included monopod collar
CONS
Extreme price
Heavy 8.4 pounds
Large footprint
Requires tripod or monopod
Why We Picked It
This isn't for the "weekend warrior" style photographer. This is a professional piece of equipment used by photographers who require a fast, zoom lens capable of capturing wildlife at great distances.
You won't find this lens in a kayak or carried by a backpacker, but you will find it in African blinds shooting big game, or in the western mountains capturing images of grizzlies, wolves, and the reclusive wolverine.
It is an easy-to-use lens, with an FX camera body, but it will require stabilization due to its extreme weight.
At the price, you'll want to get this lens insured before taking it to the field.
Sometimes you have to spend a little, or in this case, a lot, to get the quality you're looking for. This lens is for those seeking the highest quality they can find and why we consider it the best Nikon lens for nature photography.
This is a lens best used from a stationary position in a stand, with a solid rest to handle the weight and the extreme magnification.
Who It's For
This is a professional lens, and you'll pay a professional price. If you make your living with your camera, this is a lens for you. It is heavy and will require adjustment in your shooting style to use, but for close-up shots of wildlife, and extreme close-ups at sporting events this is a must for every professional who needs a little distance.
Nikon AF-S VR Micro-NIKKOR 105mm f/2.8G IF-ED Lens
Best lens for closeup nature photography
Bottom Line:
After our last review, it's time to return to a little bit of reality for the average photographer. This fixed 105mm length lens offers some outstanding features on the higher end of the moderate price spectrum.
There are times when a fixed lens is exactly what you need when seeking the best Nikon lenses for nature photography.
Not every photograph taken in nature has to be an osprey capturing a trout in mid-dive, or a coyote leaping into a snowdrift for a hidden field mouse. Many nature photographers prefer to capture more stationary objects at very close range.
In late summer and early autumn, the milkweed dries and burst forth in our area. Many farmers and ranchers spend a lot of time and effort trying to eradicate these plants, but when they pop and begin to release their seeds, they are among the most interesting flora you can find.
I've used my fixed 105mm many times to capture them in the long light of late afternoon and the images are as unique as they are beguiling.
PROS
Moderate price
12-inch minimal focal length
FX compatible
Fast 2.8 F-stop
CONS
Fixed length
Slow autofocus
Wide
Why We Picked It
Close shots of fixed objects in a variety of light are the primary reason we picked this lens. Nature photography is a challenge, even when shooting flowers, fungus, or other fixed images. With a fixed 105mm lens you have the ability for a slight telephoto option, combined with a macro setting that allows you to almost touch the subject before you release the shutter.
At a moderate price you'll get excellent results with this lens, just don't expect an instant focus with its slower autofocus mechanism.
In closeup nature photography, you'll be shooting with manual focus most of the time, and if you're looking for that elusive motion blur in the background and sharp image in the foreground, you're going to have to use a manual focus for the best results.
This is a "fat" lens, meaning it has a wider diameter than many similar-sized competitors. But if you're game is flowers, plants, or even reptiles. This is among the best Nikon nature lens options you can find.
Who It's For
This lens is for the creative photographer looking for unique angles, extremely contrasting images, and high-quality close-ups. As a fixed lens, it takes more skill to use than a zoom can provide so the photographer using it should be a seasoned veteran at the shutter.
Nikon AF-S FX NIKKOR 80-400mm f.4.5-5.6G ED Vibration Reduction Zoom Lens with Auto Focus
Best overall telephoto lens
Bottom Line:
So, you consider yourself a pro, or maybe you really are one. This is a lens for the advanced photographer. A zoom range of 80 to 400mm is well above the standard most amateur photographers set for themselves, and the fast F4.5 to 5.6 setting with vibration reduction offers a lens that is equally at home shooting migrating geese or a late autumn football game from the sidelines.
The things you can do with this lens make it one of the best Nikon FX lenses for landscape photography you can find.
The price is higher than most consumer-level photographers are willing to pay, but for the professional, it is an investment worth the price.
If you're looking for the best Nikon lenses for outdoor photography, this one should be on your shortlist.
An 80 to 400mm zoom is a lens with nearly unlimited options. It will work for macro shots at the 80mm setting producing clear images of insects, plants, and shoreline features, and it will reach out and touch, long-range images at the 400mm setting. This is a lens that works equally well in every aspect of outdoor photography aside from wide-angle shots.
PROS
400mm maximum length
FX compatible
4.5 to 5.6 F-stop
Vibration reduction
Focal length 5 feet to infinity
CONS
High priced
Heavier lens at 3.5 pounds
Why We Picked It
The ability to gather a lot of light when set at F 4.5 on a 400mm lens is the primary reason we chose this model. This lens will work in dim light and still capture quality images at distance without sacrificing crispness or needing a tripod to compensate for slower shutter speeds.
It is compact enough to take in the field, and the 400mm option gives you a lens comparable to the image you'll find in a standard pair of 8 power binoculars. That's a lot of zoom when it comes to nature photography.
You can capture birds close up or climb onto the edge of a fox den to wait for the kits to appear in the late afternoon with equal quality.
I shot a gathering slither of bull snakes near a huge prairie dog town on the Wind River Indian Reservation one afternoon in late May with my 100 to 300mm zoom lens. The images were outstanding, but I couldn't get quite close enough to catch a snake's tongue as it worked the air to smell my presence. The photos were great that afternoon, but I lament the shot that got away.
Who it's for
This lens is for anyone who requires a telephoto zoom lens. With the top setting of 400mm you're going to get images at greater distances than a standard consumer zoom lens. If you're a bird enthusiast, this is the lens for you.
NIKON NIKKOR Z DX 50-250mm f/4.5-6.3 VR Ultra-Compact Long Telephoto Zoom Lens with Image Stabilization for Nikon Z
Best Nikon Z lens for nature photography
Bottom Line:
This is one of the best, maybe the very best Nikon Z lenses for landscape photography. With a zoom that moves from the "nifty fifty" setting to 250mm this lens offers a lot of range in a zoom while retaining a relatively low F-stop ranging from 4.5 to 6.3, making it one of the best Nikon Z lenses for nature photography, and at a moderate price.
Lightweight, with a small footprint, this is a camera you can carry just about anywhere.
This Z format lens is equivalent to a 75-375mm zoom lens in FX or DX lenses.
The 50mm short setting isn't the best for panoramic landscape photography, but it will deliver crisp images of buttes, and trees standing alone against the setting sun along with the ability to zoom in on an eagle or maybe a cardinal landing on a branch of that tree.
Variability with multitudes of options is what this is considered a leader in choosing the best Nikon Z lens for nature photography.
This is the lens to buy if you want to get up close and personal with your subject.
PROS
50 to 250mm zoom
Mirrorless Z Format
4.5 to 6.3 F-stop
Vibration reduction
Low price
CONS
VR elements don't lock when powered down
Not good in dark or shadow settings
Why We Picked It
This is the best low-priced option for a zoom lens in a Z format we found. It is inexpensive but still delivers good quality in a wide range of settings.
The 50mm to 250mm zoom takes care of the average range of settings you'll find in a budget model lens.
If you're into macro images or require a high-powered zoom to capture close-ups of birds or distant animals, this is not the lens for you. But since few of us find those extremes exclusively, this is a lens that bridges the gap between the two extremes.
A zoom lens with a good F-stop range for daylight conditions, and that doesn't weigh much might be ideal for the backcountry photographer who requires a utility lens to get the job done.
Who It's For
This lens is for everyone. The features, including the 50 to 250mm length and mid-range F-stop make this a lens that can almost do it all. It's not a wide angle, but if you're shooting family gatherings, weddings, or working in digital media, you can't beat this lens. The variability is outstanding.
Nikon AF-S NIKKOR 14-24mm f/2.8G ED
Best Nikon wide-angle lens for landscape photography
Bottom Line:
Those images captured by the legendary producer John Ford in his epic John Wayne westerns of the buttes in Southern Utah are the stuff of legend to a landscape photographer. Sometimes you don't care about closeups, macros, or capturing the eye of an osprey in flight. If you're into landscape photography this is the lens for you.
Nature photography can often mean panoramic images stretching from horizon to horizon. That's what this Nikkor lens was designed for.
Combine this lens with the timer on your camera, pre-focus at a set distance then hop in the photo for a "selfie" of you against a majestic, isolated backdrop.
The power of this lens is in the tight 14-24mm length and the fast F 2.8 speed.
While its most common use is as a wide-angle lens, it can be a good macro lens as well, with a minimum focal length of fewer than 11 inches. That's a close-up shot for a lens designed to capture panoramas.
PROS
Tight 14-24mm length
Fast autofocus
2.8 F-stop
Vibration reduction
3 aspherical lenses
Rugged moisture-resistant design
CONS
High price
Limited use – wide angle only
Why We Picked It
For wide-angle photography, this is the lens to choose, that's why we've selected it as the best Nikon wide-angle lens for landscape photography.
The cost of this lens takes it out of the realm for most amateur photographers, but for professionals, especially those who specialize in outdoor photography, or for classic, high-contrast images used in commercial photography for real estate, and tourism images, this is a great choice.
NIKKOR's' proprietary Nano Crystal Coating reduces ghosting and flare for the best uniform photographs you can find in a wide-angle setting.
Variability in the quality and lighting in a wide-angle photograph is often a problem with lesser-quality lenses.
You won't find that in this lens.
Who It's For
Wide-angle photography was once very difficult, requiring a fisheye lens and careful preparation in setting up the scene. This lens takes a lot of that preparation away and even a novice can get great shots with it. The tight 14-24mm length offers a lens that any photographer can use and produces excellent images.
Conclusion
There are a lot of choices in selecting a lens when it comes to nature photography. The variety of lens options for Nikon cameras is one of the most widespread on the market. Those choices are a necessity when it comes to the wide-open world of nature photography.
Photography is a demanding mix of science and art, a field without comparison when the two disparate fields come together.
For bird photography, and wildlife close-ups you need the most powerful lens you can find. A moderate F-stop in the 5.6 range is great for working in daylight, but for images taken in the early morning or late evening when the dominant colors are pink and orange, and the light is limited, you'll need a faster F-stop to compensate.
For close-up images of anthills, flowers, and ornate patterns on rocks, a macro lens, preferably a fixed lens with a moderate zoom is the answer. A lens from 85 to 135mm will do the trick.
The final aspect of outdoor photography, the panoramic, or wide-angle shot calls for a wide-angle lens. The smaller the better when it comes to wide-angle options. You don't need a fisheye lens but one in the 18 to 35mm range should be just what you need for a wide variety of wide-open images. The faster the F-stop the better with these lenses. You'll be able to capture dawn and twilight when the soft light is the longest with a faster lens.