The Nikon Z7 II is still one of the best mirrorless cameras out there. You need to do this high-end camera justice by paring it with the best lenses for Nikon Z7 II cameras.
Our pick for the best lens for Nikon z7 II cameras has to be the Nikkor Z 24-70mm f/2.8 S. It's got everything you need to handle day-to-day photography and even paid photoshoots. If that lens doesn't put your photography needs in focus, then we've got 7 others on this list you need to check out.
Introducing the Top 8 Lenses For Nikon Z7 II
Let's jump right into the 8 best lenses for the Nikon Z7 II!
1. Nikon NIKKOR Z 24-70mm f/2.8 S Lens: Best All-in-one Lens for Nikon Z7 II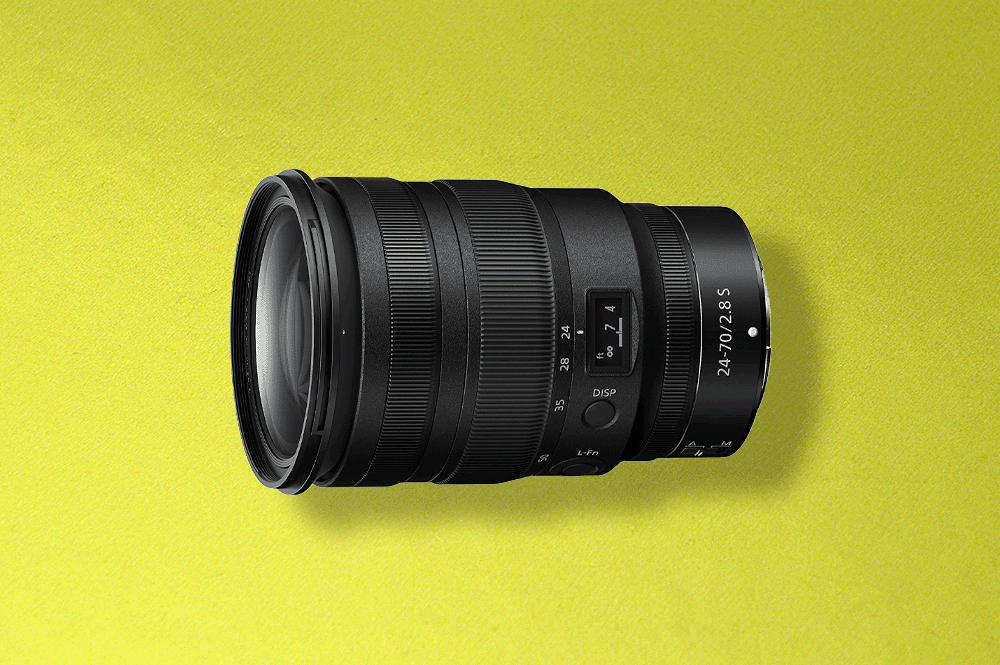 Go Mirrorless With one of the Best Everyday Lenses for Nikon Z7 II
The best standard zoom lenses for Nikon Z7 II are also the best everyday lenses. There's a good reason why photographers regularly choose standard zoom lenses as their every-day-carry lenses. It's all about versatility.
When you're out and about, you never know what scenes are going to come your way. You want a lens that has a bright aperture and the ability to snap between wide-angle and tight zooms. The 24-70mm focal length is the sweet spot for this kind of photography.
You don't get to the top of the best lenses for Nikon Z7 II mirrorless camera systems without some impressive specs. The dual focus system uses near-silent stepping motors which means this lens can also handle video and filming with ease. The lens elements balance aspherical glass with several coatings for crystal clear images.
This lens is a real photographic Swiss army knife thanks to these features, but it doesn't stop there. The OLED panel built into the lens gives you quick information about your setting choices while the programmable L.Fn button gives you even more control over those settings.
No matter how you approach it, this lens is really the best choice for Nikon Z7 II photographers.
Pros
The f/2.8 aperture is constant over the entire focal length range
Dual focus units use stepping motors for quick, accurate, and silent autofocus
Nine blade aperture delivers on buttery bokeh
Programmable control ring can switch between manual focus or exposure and more
Cons
There's a notable absence of weather sealing
Might not zoom far enough for sports or wildlife photography
2. Nikon NIKKOR Z 50mm f/1.8 S: Try Out the Best 50mm Lens for Nikon z7 II
It's The Best Nikon Z7 Ii Lens For Travel Or Street Photography
50 mm is easily the best focal length for travel and street photography. This is one of the best street lenses for Nikon Z7 II, and you're not going to want to pass this one up. If you are here for travel or street photography, the features and quality of this lens will impress you the most.
Arguably, the most important future when it comes to travel or street photography lenses is how they handle. This lens has a great build quality, and it features dust and weather-resistant sealing. It also has a programmable control ring that gives you more options when it comes to how you use your lens on a fly.
Street and travel photography also requires photographers to be discreet. You'll be grateful for the silent stepping motor when you're trying to autofocus on busy city streets without drawing too much attention to yourself.
Pros
Two aspherical and two extra-low dispersion elements for distortion-free images
The focal length and bright aperture are ideal for street, events, and other photography styles with uncertain lighting
The electromagnetic aperture mechanism stabilizes the rapid shooting
Lens coatings help to reduce flare and ghosting in your pictures
Cons
A lack of image stabilization
You'll want to round out your kit with lenses that handle wider angles and tighter zooms
3. Nikon NIKKOR Z 70-200mm f/2.8 VR S: Best Telephoto Zoom Lenses for Nikon Z7 II
A Telephoto Lens With More Options Than Just "Zoom"
Coming in at number three in our best lenses for z7 II cameras, the Nikkor Z 70-200mm VR S lens is easily the best choice for telephoto on Z mount cameras. It delivers on image quality that professional photographers will be envious of.
Where this lens really shines and how much effort Nikon clearly put into the design. Every brand has a 70 to 200 mm lens with well-balanced glass and a good aperture, but not everyone has put the same detail into features. This lens features two programmable buttons, a programmable control ring, and plenty of other features to keep you in control of your settings and your photography.
The vibration reduction, lens coatings, and multiple elements are all designed to deliver clear images even when fully zoomed in at 200 mm. The bright aperture also makes this the ideal camera for fast-moving, long-distance photography like wildlife and sports.
With 70 mm as the low end, this lens could even work in a more specialized single lens kit or for someone who wants to break into taking portraits or other styles of photography.
Pros
One of the best performing image stabilization systems out there
Lens elements include a fluorite element to reduce color fringing and distortion
One of the best lenses for Nikon Z7 II mirrorless camera sports or wildlife photographers
Removable tripod color features a ball bearing spin for easy use
Cons
Dust and moisture-resistant, but not weather sealed
Weighing nearly 3 pounds, this lens weighs more than the Nikon z7 II
4. Nikon NIKKOR Z 85mm f/1.8 S Lens: Best Portrait Lenses for Nikon Z7 II
Take Portraits Like a Pro
The fact that there's already an 85 mm lens for the Z mount system tells you a lot of what you need to know about just how good this lens is. Nikon knew that they needed to deliver on a prime lens specifically for portraiture when they launched their Z mount cameras, and they built this lens to impress.
In order to take great portraits, you're going to need two things. The first thing you need is a skill that comes with practice and developing your personal style. The second thing you need is a high-quality lens with some absolutely stunning glass.
The two extra-low dispersion elements reduce color fringing while the Nano Crystal Coat and the Super Integrated Coating limit lens flares and ghosting. This means clean portraits that need less time to be touched up. This is a huge step forward for enthusiastic hobbyists and working pros alike.
You'll also find all of the familiar features on most Nikkor Z lenses. You get a programmable control ring, silent dual-motor autofocus, and smooth aperture with electromagnetically controlled blades.
Becoming the best Nikon z lens for portraits was no easy task, but the Nikkor Z 85 mm lens stands "head and shoulders" over the competition.
Pros
85mm is the sweet spot for studio, event, and street portraiture
Super bright f/1.8 aperture means super smooth bokeh
The design feels great in the hand and is well-balanced
Dual stepping motors mean silent autofocus which won't interrupt your subjects
Cons
No weather sealing limits use
Missing the programmable buttons and OLED screen found on other Nikon Z lenses
5. Nikon NIKKOR Z 14-30mm f/4 S Lens: Get Outdoors With the Best Landscape Lens for Nikon z7 II
Best Wide-angle Zoom Lenses for Nikon Z7 II
The Nikkor Z 14-30mm f/4 S gets to be the go-to choice for landscape, architecture, and astrophotography for good reason. Being able to zoom through a few focal length options gives you so much more control over how you shoot while you're in the field with these styles of photography.
This is especially important for mourning systems like Nikon's Z Mount. You just don't have the prime lens options that you do with older, DSLR mounting systems. This gives a wide-angle zoom lens even more utility.
Speaking of utility, this lens features a programmable control ring, dual autofocus stepping motors, and a fluorine coating on the outer glass for more durability. These features will be a lifesaver when you're moving through the ultra-wide-angle focal lengths this lens has to offer.
The styles of photography that make the most use out of these wide-angle zoom lenses often involve a good amount of travel. You'll be glad to know that Nikon stepped up the build quality and created a more durable lens. The barrel is also retractable which makes storage and transportation even easier.
Pros
Consistent f/4 aperture makes it easier to handle tough lighting conditions
Four aspherical elements and Four extra-low dispersion elements for clear images
Fluorine coating on the exposed glass helps protect your lens
Retractable barrel is great for storage and travel
Cons
No VR vibration reduction image stabilization
No weather sealing is a huge miss on a landscape-focussed lens
6. Nikon NIKKOR Z 20mm f/1.8 S: Best Wide-angle Prime Lenses for Nikon Z7 II
The Advantage of a Wide Angle Prime Lens
One of the best lenses for z7 II is the Nikkor Z 20mm f/1.8 S lens.
If we already covered a wide-angle zoom lens, what's the importance of adding the best wide-angle prime lens for the Nikon z7II on this list?
Prime lenses are capable of doing so much more than zoom lenses can accomplish. Well, it's more accurate to think about it as a series of trade-offs. Zoom lenses allow you to change your focal length on-the-fly while prime lenses deliver much clearer images thanks to their simplified design.
Prime lenses also tend to feature brighter apertures. That's what makes this one so important. It delivers on clear images and can work in much dimmer conditions than its zoom counterpart.
If you're looking for a more dedicated choice for landscape, astrophotography, or interior and architectural styles, this is the prime lens you need in your kit.
Pros
The f/1.8 aperture gives you plenty of options for interior photography
A combination of elements and coatings designed to reduce distortion
20mm is a great focal length for a variety of styles and subjects
A programmable control ring that you can set to control your most-used settings
Cons
No programmable L.Fn buttons
Build quality could be a bit more durable
7. Nikon NIKKOR Z MC 105mm f/2.8 VR S Macro: Best Macro Lenses for Nikon Z7 II
This Lens Unlocks Mirrorless Macro Magic
There are a few must-have features that you absolutely need in a macro photography lens— and you can find them all in the Nikkor Z MC 105mm f/2.8 VR S macro lens.
The first feature that you absolutely need to look for is the reproduction ratio. This is the size of an object in real life as compared to the size of the same object on the sensor. This lens gives you the most ideal possible ratio which is 1 to 1.
This lens also features an impressive minimum focusing distance of 11.4 inches. This lets you get up-close and personal with pretty much any subject whether you are doing macro photography at a wedding or you're out in nature focusing on plants and insects.
Macro lenses also need a good vibration reduction and you've got that on this lens for Nikon. Nikon's VR helps stabilize your shots when you're focusing on delicate subjects.
This lens is also packed with bonus features. You've got a programmable control ring along with programmable and customizable buttons. This macro lens even has protective coatings on the glass which makes shooting so much more reliable.
Pros
Nikon's Vibration Reduction image stabilization technology
A true 1:1 reproduction ratio
Minimum focusing distance of 11.4″
Perfect for hobbyists and working photographers alike
Cons
It needs a built-in LED ring light
More expensive than similar lenses from other brands
8. IRIX 45mm T1.5 Cine Lens Z Mount: The Best Nikon Z7 Lens for Videographers
Best Nikon Z7 II Lenses For Video
The IRIX 45mm T1.5 Cine for Z Mount cameras knocks every other Z Mount videography lens out of the water. Sure, you could get away with a Nikon 35mm prime lens, but you'd be missing out on the Hollywood-style cinematography features that you find in this lens from IRIX.
This one is definitely designed for videographers and cinematographers who are looking for something a little more serious. This is going to be closer to an expensive cinematography lens and it is going to be towards a still photography lens that is capable with video.
The first thing you're going to notice about this lens is that it has focus gears. These gears give you total and precise control over your focus so you can follow your subjects without ever worrying about losing focus on them. This lens even marks your position on the focus gears so you can retain continuity between shots.
The build quality of these Cine lenses is also a little more rugged than what you can find on still photography lenses. This lens is carefully constructed and coated, with glass to remove chromatic aberrations and other visual distortions. It's also built to handle tougher shooting conditions than other lenses.
Pros
Standard 95mm front diameter for filters and other accessories
0.8 MOD geared focus and aperture
Detachable support foot
180 degrees of focus
Affordable for this type of lens
Cons
Designed more for professionals and experienced photographers
Not a Nikon lens which might be an issue for brand purists
IRIX is a third-party brand with less support than Nikon
Your Guide to the Best Lenses for Nikon Z7 II
Whether you've got questions about Nikon's mirrorless cameras or the future of the Z Mount, we've got you covered. This guide will help you figure out which lens is right for you and answer your questions about Nikon's cameras.
What Nikon Z7 II Lens Should I Buy First (or Next)?
Picking the best lenses for Nikon Z7 II mirrorless camera kits is tough when it's your first lens.
Your first lens should be the Nikkor Z 24-70mm f/2.8 S or the Nikkor Z 50mm f/1.8 S. These two lenses give you flexibility and great coverage options. Plus, every photographer winds up using them on a regular basis.
If you're after your second, third, or fourth lens, you've got a harder decision to make. Your next lens should fill a gap in your current mirrorless photography kit. There are no specific recommendations without knowing the lenses you already own, but pick with a specific style or project in mind and you won't go wrong.
What Lenses Work on Nikon Z?
When it comes to Nikon z7 II lens compatibility, people have a lot of questions. Nikon's mirrorless cameras use the Z Mount system. If you want to get lenses with other mounting systems to work on Nikon Z cameras, you'll need to get a mounting ring adapter.

See also:
Best lenses for the Nikon Z7
Can You Use a DX Lens on a Z7 II?
You can use DX lenses on a Nikon z7 II as long as those lenses use a Z Mount. With the current firmware on the Nikon z7 II, you won't be able to change the image crop settings when you have a DX lens attached. Nikon is looking to make sure that more people buy FX lenses rather than simply attaching a DX lens with a compatible mount.
Is Nikon Z7 II Good for Professional Photography?
The Nikon z7 II is a great choice for professional photography. It's got a body with some impressive weather-sealing features. It has an excellent range of lenses and can easily deliver professional quality images in any line of photography work.
Does Z7 II Shoot 4K?
The Nikon Z7 II supports shooting 4k video at 60 frames-per-second. This camera gets a 1.08 times crop when filming 4k at 60 fps. There is no crop when filming 4k at 30 fps.
Can I Use Other Lens Mounts on the Nikon Z7 II?
You can use any mount lens on a Nikon z7 II as long as you have a lens mount adapter. Nikon makes an official "FTZ" adapter that converts F lenses to Z mounts. You can also find third-party adapters that can attach a wide variety of other lens mounting systems to your Nikon Z7 II.
Will Sigma Make Z Mount Lenses
Sigma is very likely to start producing Z Mount lenses. The president of Sigma announced that their company would be likely to start producing their own Z Mount lenses by the end of 2022. This follows the long-standing industry wisdom of letting the big brand names get new products settled in before third parties start producing their own lenses.
If you're looking for a third-party Z Mount lens, there are already a few options on the market. These focus on covering specialty lenses such as cinematography lenses.
Picking the Best Lens for the Nikon Z 7II
Mirrorless is here to stay and that means you should get the best lenses for Nikon Z7 II cameras.
You can cut right to the chase and pick up the best lens for Nikon z7 II: the Nikkor Z 24-70mm f/2.8 S. Our picks for the best lenses for z7 II also includes the Nikkor Z 70-200mm f/2.8 VR S for unbeatable telephoto photography and the IRIX 45mm T1.5 Cine Lens for a serious approach to video.
Which Nikon Z 7II lens is right for you? Let us know your pick or suggest a lens that we might have overlooked!